Sony's design director talks Sony Xperia Z Ultra
32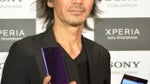 The unveiling Tuesday of the
Sony Xperia Z Ultra
had some
hearts beating faster and drool dropping out of some mouths
. The 6.44 inch glass on the device takes it past the
Samsung Galaxy Mega 6.3
by .14 of an inch to become the largest-screened smartphone in the industry. Sony's Product Design Director, Jun Katsunuma, who was responsible for designing the eagerly awaited model, was in Shanghai where he talked on the record about the device. Katsunuma's work on the Xperia line goes back to the
Sony Xperia S
. You might remember that model for the translucent strip that doubled as a notification light near the bottom of the phone. That little strip helped the device catch quite a buzz.
Katsunuma discussed the difference between the
Sony Xperia Z
, which he says uses a plastic frame, and the Xperia Z Ultra which uses aluminum side plates. This allowed Sony to make it thinner than the Xperia Z. The latter is 7.9mm thick while the Xperia Z Ultra weighs in at 6.5mm thick. Another difference between the two high-end models revolves around the color purple. Both can be purchased in black, white and purple although the 6.44 inch model uses a solid purple instead of the glittery purple used on the Sony Xperia Z. The reason? It seems that a solid purple color just looks better on the larger model.
So why choose a 6.44 inch screen? Why not round it off to 6.45? Katsunuma said that the 6.44 inch screen happened to perfectly fit a body that would be the thickness and length of a passport. Sony was aiming for that size because many travelers put their passports inside a coat pocket and have it with them at all times while on the road. And by allowing the use of a regular pen to scribble on the glass, travelers using the device won't have to carry around a stylus. While the screen is not made of Gorilla Glass, it is supposedly just as tough.
"The point of this Xperia Z Ultra is how we could let the users bring this one into their travel and daily life. That's why we chose aluminium to realize our product's proposition...The Xperia Z, the Xperia Tablet Z and the Xperia Z Ultra are very strong in consistency, but of course, they have different propositions. So that's how we decide to use some different materials, different pigmentation and sometimes construction. Based on this product and based on our one design language, we really do some differentiation but with high consistency. The use case of the smartphone is changing, so we need to consider how we can express the differentiation in any use case in any product. So we create our designs based on this high-level concept."
-Jun Katsunuma, Product Design Director, Sony
source:
Engadget