Sony Xperia XZ3 vs Apple iPhone XS: which one would you buy?
36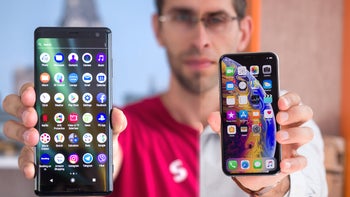 So, the
Xperia XZ3
is out and it's certainly one of the most unique and progressive Sony flagships to come out for a while. Sure, the
XZ2
was first to get its foot through the door into the modern smartphone world, but the XZ3 feels like the proper evolution for Sony. We have an 18:9 ratio, 6-inch OLED screen with curved sides on the front, next to no side bezels, great front-firing stereo speakers, a good camera, and a beautiful and ergonomic glass back.
Oh, also, the Xperia XZ3 costs $900.
So, that's only $100 shy of a brand-new
iPhone XS
, which offers Apple's super-powerful A12 Bionic chip, a 19.5:9 ratio, 5.8-inch AMOLED display, a dual camera with a telephoto lens and its own stereo speakers.
Of course, the Xperia is an Android warrior, while the iPhone will give you access to the walled garden that is Apple's ecosystem, so that also matters here. If you had $1k in hand and these two phones in front of you, which one would you buy?