Sony Xperia XZ3 Review
85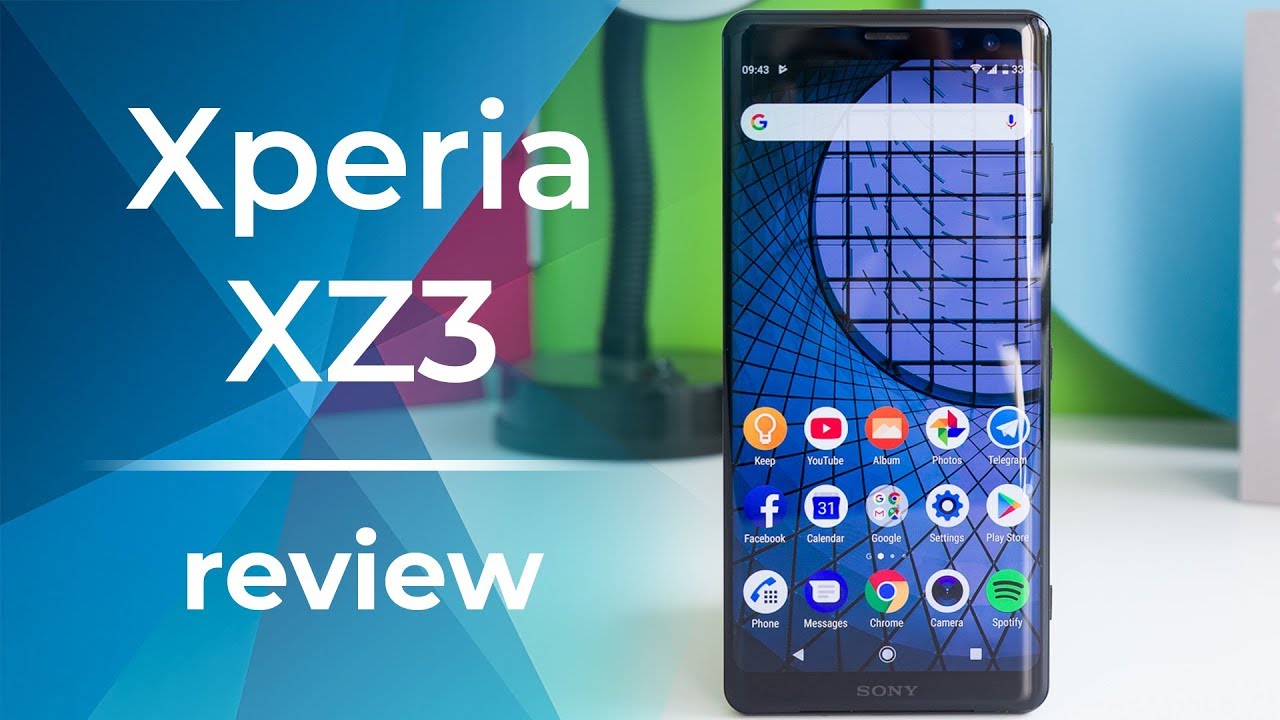 Sony has been releasing new flagship phones every six months, faster than any other company in the industry, but somehow, despite (or maybe because of) this busy schedule, it has fallen a bit out of the big picture and its newest phones hardly get the attention and hype that comes with a new iPhone or Samsung Galaxy.
The new
Sony Xperia XZ3
flagship does not change the aggressive launch schedule: it comes right on time, about half a year after the Xperia XZ2, but it changes something else as it marks a big "first" moment for Sony and pushes the boundaries of what you expect in a Sony phone.
The XZ3 is the first Sony phone with an OLED screen and it pleases both eyes and ears with HDR support and loud and clear dual front speakers.
But is this enough to win people over from their other phone habits and have them switch to a Sony phone? We have used the Xperia XZ3 for more than a week, and we think we have the answer.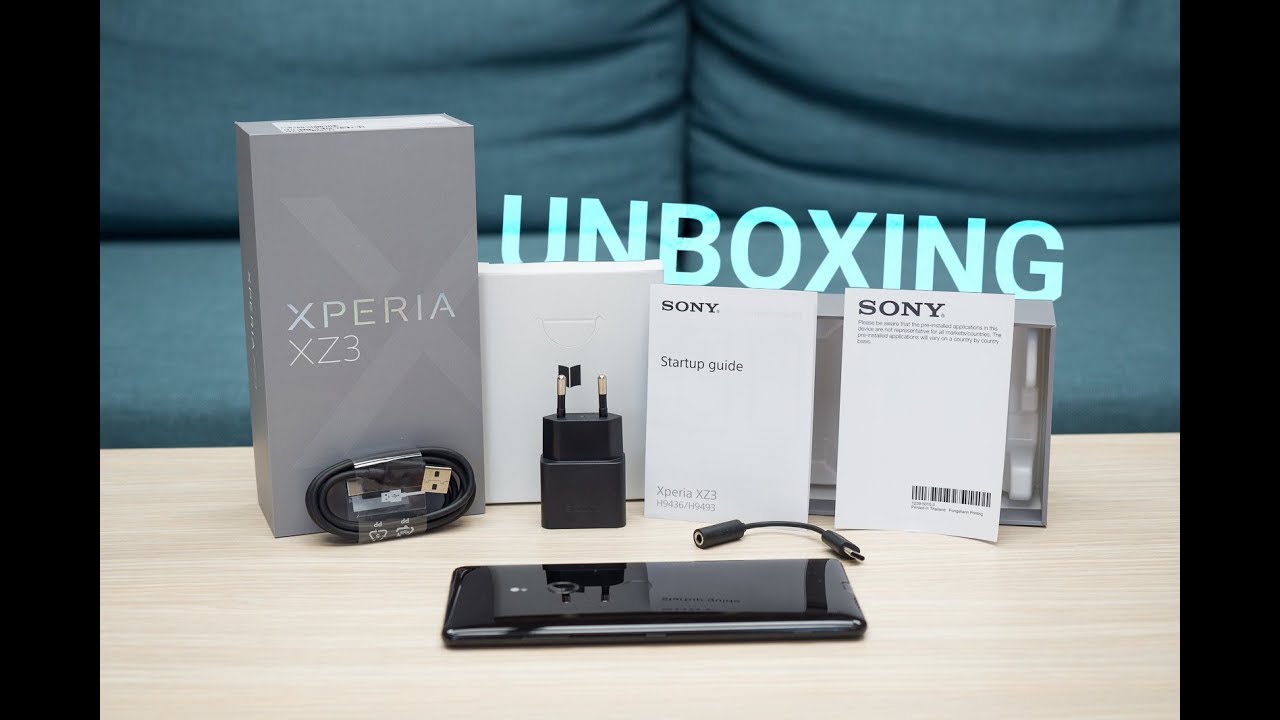 Sony Xperia XZ3
Wall charger with standard USB input
USB-C to standard USB cable
USB-C to 3.5mm audio dongle
User manuals
Design
A beauty to look at.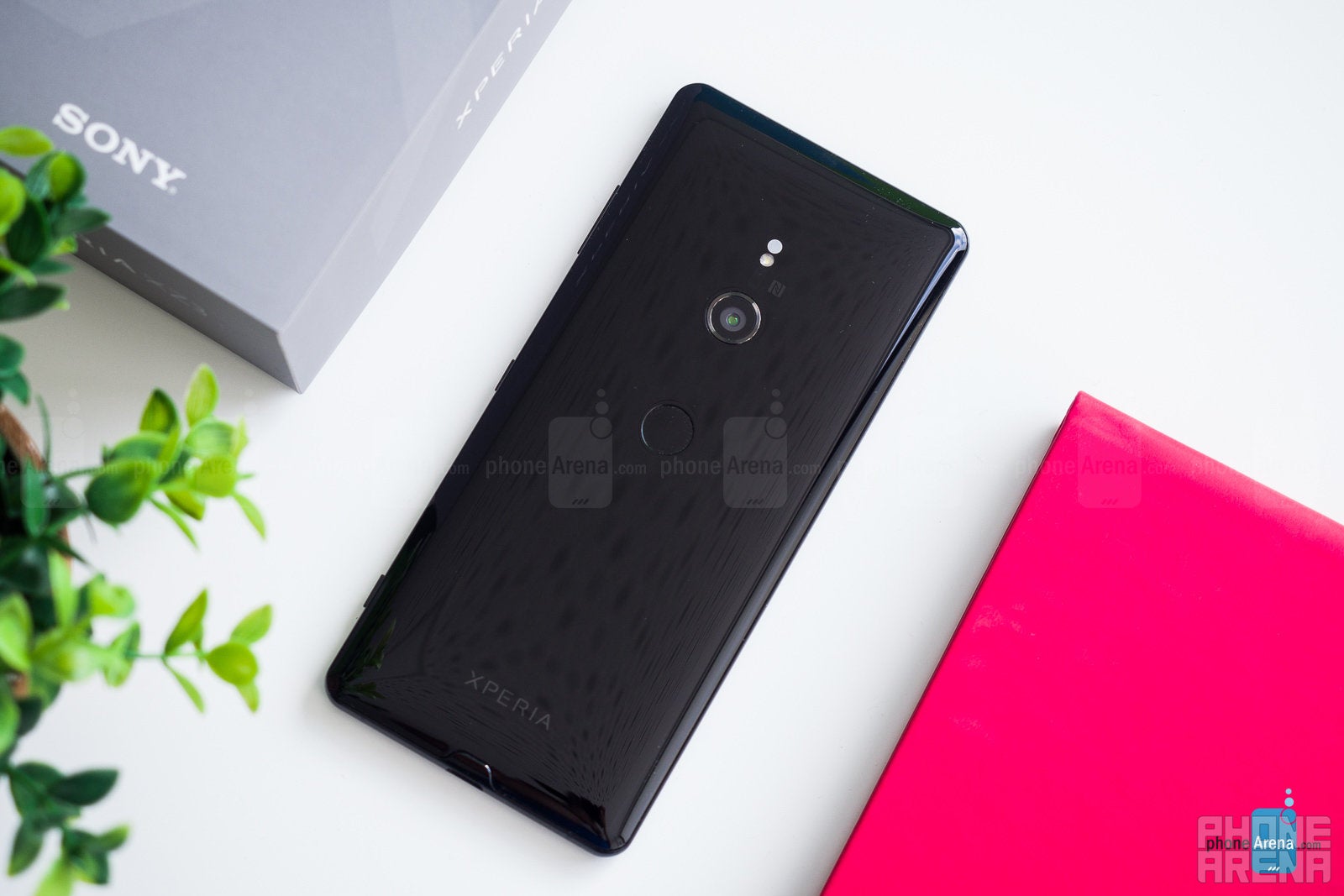 The XZ3 features an elegant, tall and narrow body with curves in all the right places to make it a beauty to look at and a comfortable phone to hold in your hand. Admire it from afar, though, as the glass body easily gets stained with fingerprint smudges and you would need to wipe it clean often if you want to maintain that pristine clean look. One other practical disadvantage of the otherwise beautiful glass design here is that the phone easily slips off all sorts of surfaces and you have to be extra careful where you place it, or risk finding it has slipped and crashed to the ground.
In the hand, the XZ3 feels substantial: it weighs 6.8 ounces, definitely not a lightweight phone, but it has that solid build quality that you associate with a premium product. The display is curved just slightly, but enough so that it seems to flow into the polished metal frame and form what feels like an almost singular surface. It's those sophisticated little details about the design that really impress.
On the front, one in the earpiece and one right below the screen, are also two stellar loudspeakers, but more on that later.
The back of the phone is also curved, almost pillow shaped (some amusingly call it the "belly"), and there is a single camera at the top part and a fingerprint scanner right about in the middle. It's an arrangement that Sony first introduced wit the XZ2 and back then we noticed that it was a very weird position for a fingerprint scanner: you kind of have to reach way down with your index finger in an almost theatrical performance of hand gymnastics. You do get used to this weird place of the finger scanner after a while, but it never feels perfectly comfortable. Speaking of the fingerprint scanner, it does its job well, recognizing fingerprints accurately, without being the slowest or the fastest in the game. We were, however, disappointed to see there is no support for fingerprint gestures. With such a tall phone as the XZ3, a swipe down on the fingerprint scanner to bring down notifications would have been a nice little convenience for us.
On the bottom, you can find a USB-C port for charging, but don't go looking for a 3.5mm headphone jack. Sony has killed the good old audio jack, but does provide a USB-C to 3.5mm adapter in the box with the XZ3.
All the physical buttons are on the right side: a volume rocker at the top, a power key in the middle and a dedicated camera shutter button in the bottom. This arrangement is not very convenient: the volume keys are too up high and hard to reach, while the camera shutter key is too low and it's hard to use it when you hold the phone vertically.
One more thing: the XZ3 is also IP68 water protected, which translates into a very practical ability to survive drops in water of up to 6 feet deep for as long as 30 minutes, so you don't need to fear taking the phone with you by the pool.
Display
Sony's first OLED screen is really something special.
In the past few years, OLED screens have slowly but surely carved their way as one of the most distinct feature reserved for flagship phones and flagship phones only. OLED technology comes to replace LCD screens, as you probably already know, and has more dynamic, livelier colors, perfect blacks and higher contrast. Put simply: it's a more eye-catchy look.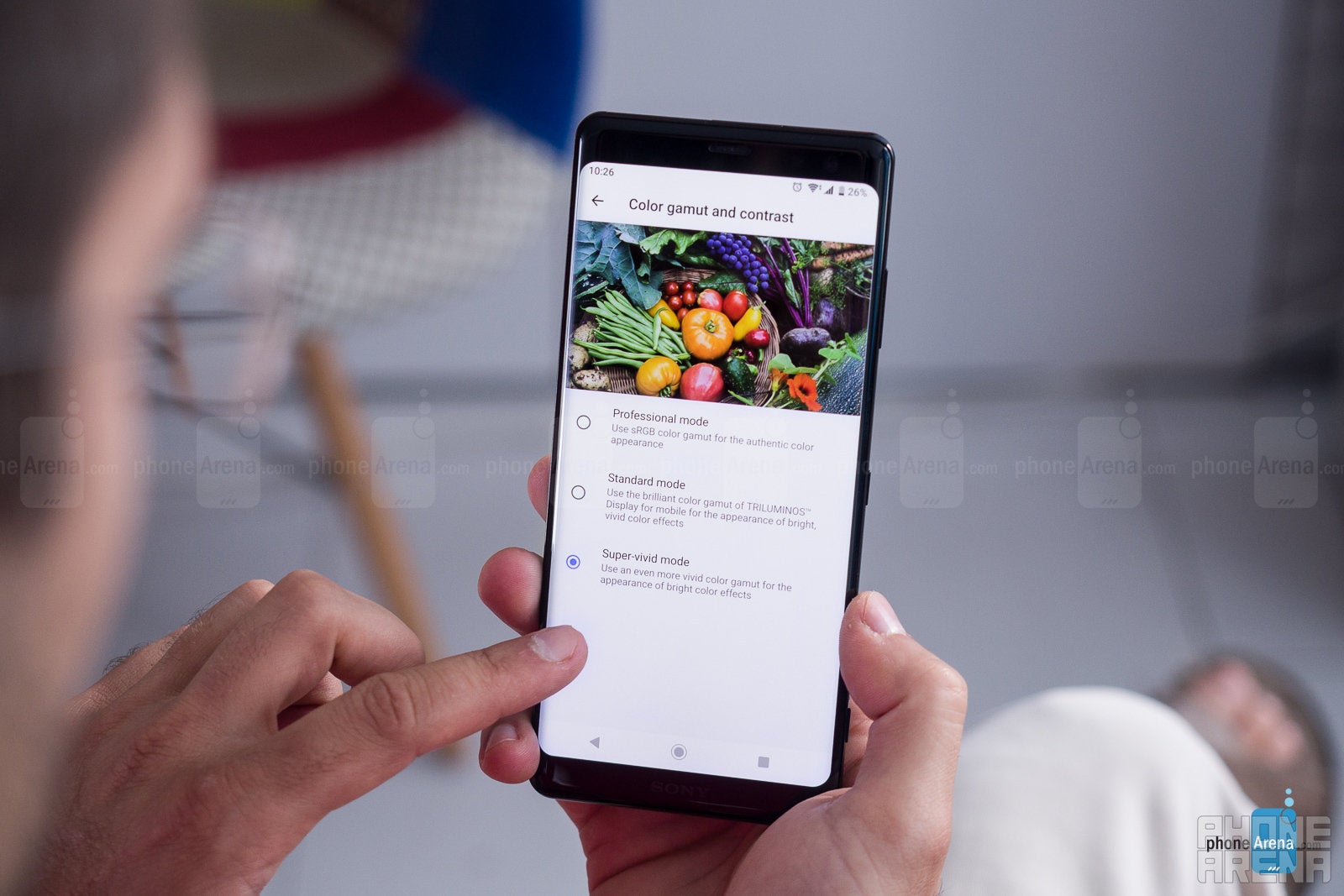 In these same past few years, Sony abstained from using OLED screens in its phones and stuck with the older LCD technology. We don't know whether it was developing and perfecting this new OLED screen for the Xperia XZ3 all those years, but it sure feels this way because this display elevates Sony to the level that you get with those gorgeous screens on Samsung devices and the latest iPhones. The XZ3 also supports HDR, so you see an even more impressive picture in the newest films shot using this standard (you can find such movies on the Play Store and on Netflix).
The specs break down as follows: it's a 6-inch OLED screen here with a Quad HD+, 1440 x 2880-pixel resolution and a 2:1 aspect ratio. No notch, fairly minimal bezels, and as we've mentioned earlier, the screen is slightly curved towards the edges, not unlike Samsung phones.
You can select the way you like to see colors on this screen by going into Settings > Display > Tap Advanced > Color gamut and contrast. Whichever of the three options (Super vivid, Standard or Professional/sRGB) you choose, the colors you get are very pleasing. Unsurprisingly, the Super Vivid mode produces the most punchy colors, an effect that seems a bit over the top especially when watching videos, so we stuck with the Standard setting, but experiment and see which one you feel looks best to you.
The screen also gets very bright, with a peak brightness score of about 550 nits, almost on par with the 575 nits that the Note 9 scores (important: tested on an all-white background). In practical terms, this means that you can easily see what's on the screen, even under direct sunlight, something that some other OLED phones struggle with.
This being an OLED screen, you now also have an Always-on Screen mode with useful information like the time and missed notifications that you can see at a glance. We liked the little touches like the blinking icon of the latest notification that helps guide your eye to what's new.
You can also find our detailed display test results for the XZ3 OLED screen right below:
Display measurements and quality
Interface
Sony's customizations are a mixed bag.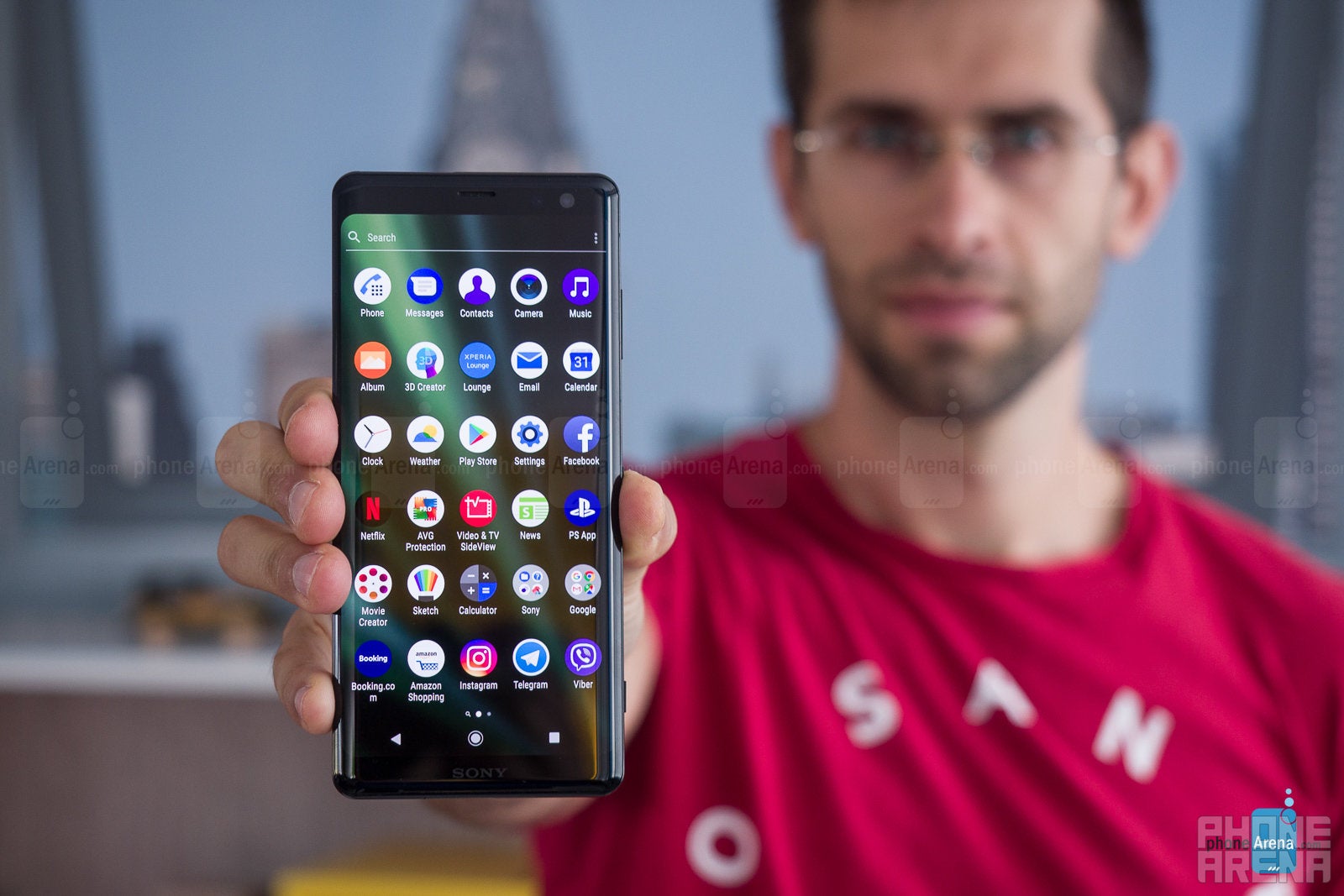 The XZ3 is one of the first phones to come with the newest Android 9 Pie on board.
While the interface follows the stock look in many ways, there are also some key interventions that Sony has made, some good and some… not so.
Somewhat surprisingly, one of the highlights features of Android 9 Pie – the new navigation gesture interface – is completely missing on the XZ3, and Sony has confirmed that it has no plans to bring it at the moment. This leaves users with the three on-screen buttons for navigation, a solution that works, but also one that feels a bit behind the times. We have used gesture navigation on a number of Android phones and found that it is easy to get used to. Gestures result in a smoother experience, so we will miss not having this option.
And then, you have things like the Side Sense feature that Sony unleashed on us with the XZ3. The idea is that you double tap the side of the phone, and a little menu pops up with shortcuts to commonly used apps and settings. We could not quite get the gesture right from the first time, but the trick is to double tap closer towards the curved edge of the screen and not the actual side of the phone to trigger Side Sense. While this works, we also found that Side Sense would turn on at random times when we are just readjusting our grip on the phone (it's a big phone, and we caught ourselves readjusting our grip often when watching a longer video or reading). It's annoying as hell and there seems to be no way to prevent this from happening, apart from just turning off the feature completely. And so we did. Having all those shortcuts that are there in the home screen is not something that adds much value to the experience after all.
Amidst all our criticisms, there are some bright spots: the interface feels fairly fast and smooth, and the clock lockscreen widget with the moving seconds hand is definitely very cool.
Processor, Performance and Memory
Under the hood, the ubiquitous Snapdragon 845.
The Qualcomm Snapdragon 845 system chip powers the show here on the Xperia XZ3. No surprise, right? It's hard to think of a flagship phone in 2018 that uses a different chip, but this is well justified by the reliable and fast performance that the 845 delivers.
On the XZ3, it's paired with 4GB of RAM, which is on the low side when compared to most other Android flagships, but is not something that you should be worried for regular daily use. The XZ3 is indeed fast and smooth, and runs without any major hiccups.
You would not be surprised that the XZ3 ranks on par with other top-rated Android phones that all come with the same chip, but you can see the slight variances in performance in the chart below:
You also have 64GB of on-board storage here with support for microSD cards to expand the memory. The 64 gigs that you do get on board, however, are less than the double, or even quadruple amounts of storage that you get on similar classes of phones like the Note 9 and OnePlus 6.
Internet and Connectivity
Only works with T-Mo and AT&T in the US.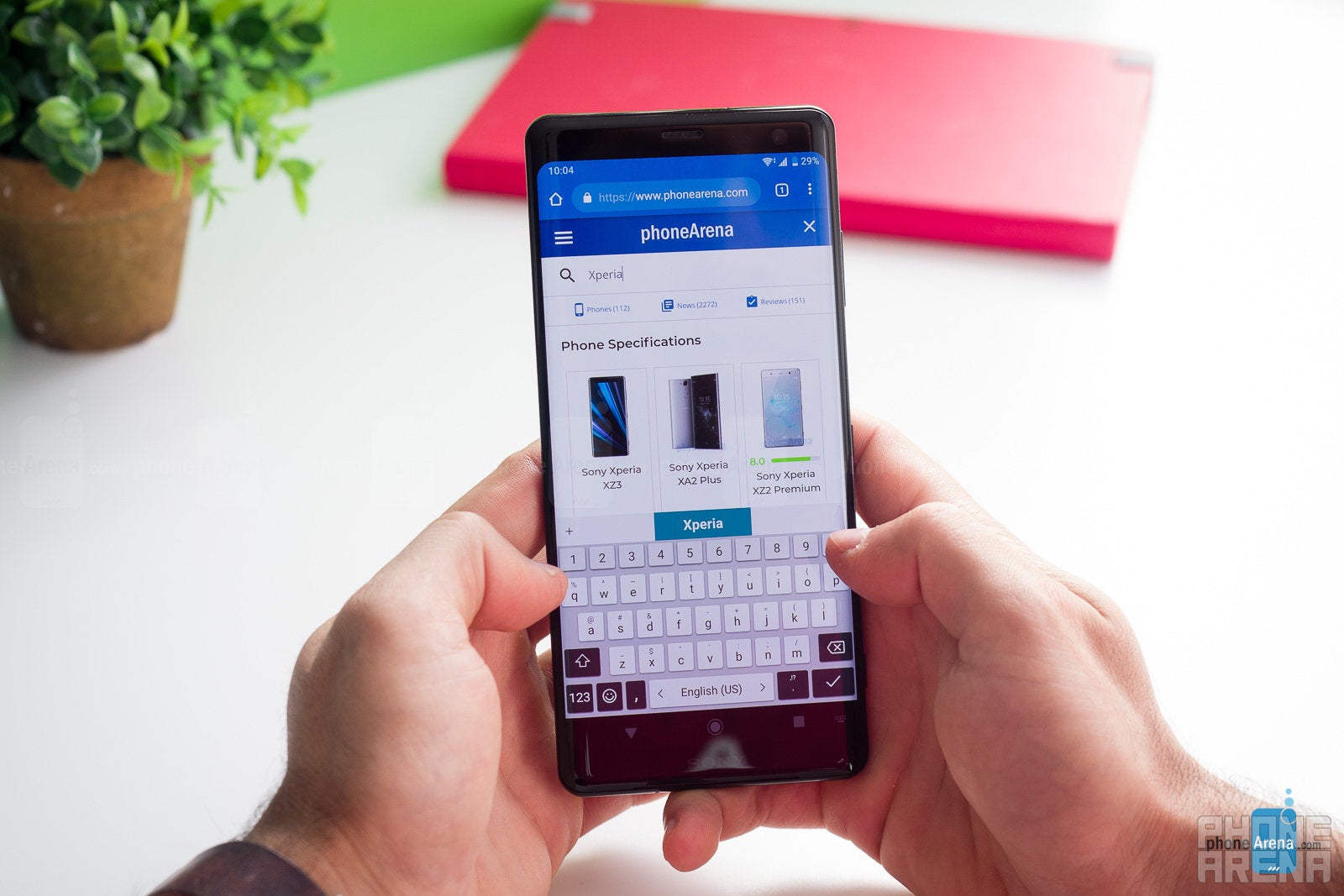 The Sony Xperia XZ3 is sold unlocked via Amazon in the US and you might be concerned whether you would be able to use this phone on the major carriers. The XZ3 works on GSM carriers like AT&T and T-Mobile, but it does not support Verizon Wireless and Sprint. In terms of 4G LTE bands, you get proper bands for AT&T and T-Mobile, but certain features like VoLTE and VoWiFi probably will not work. Globally, you should have no issues using the XZ3 on major international carriers' LTE networks.
Sony has also clarified that the XZ3 does not support 5G connectivity. No phone does yet, but chances are that the first devices will start coming soon, so you might have been curious.
In terms of other connectivity options, you also have dual-channel Wi-Fi, Bluetooth 5.0 and NFC support.
Camera
A good camera that comes at the worst time.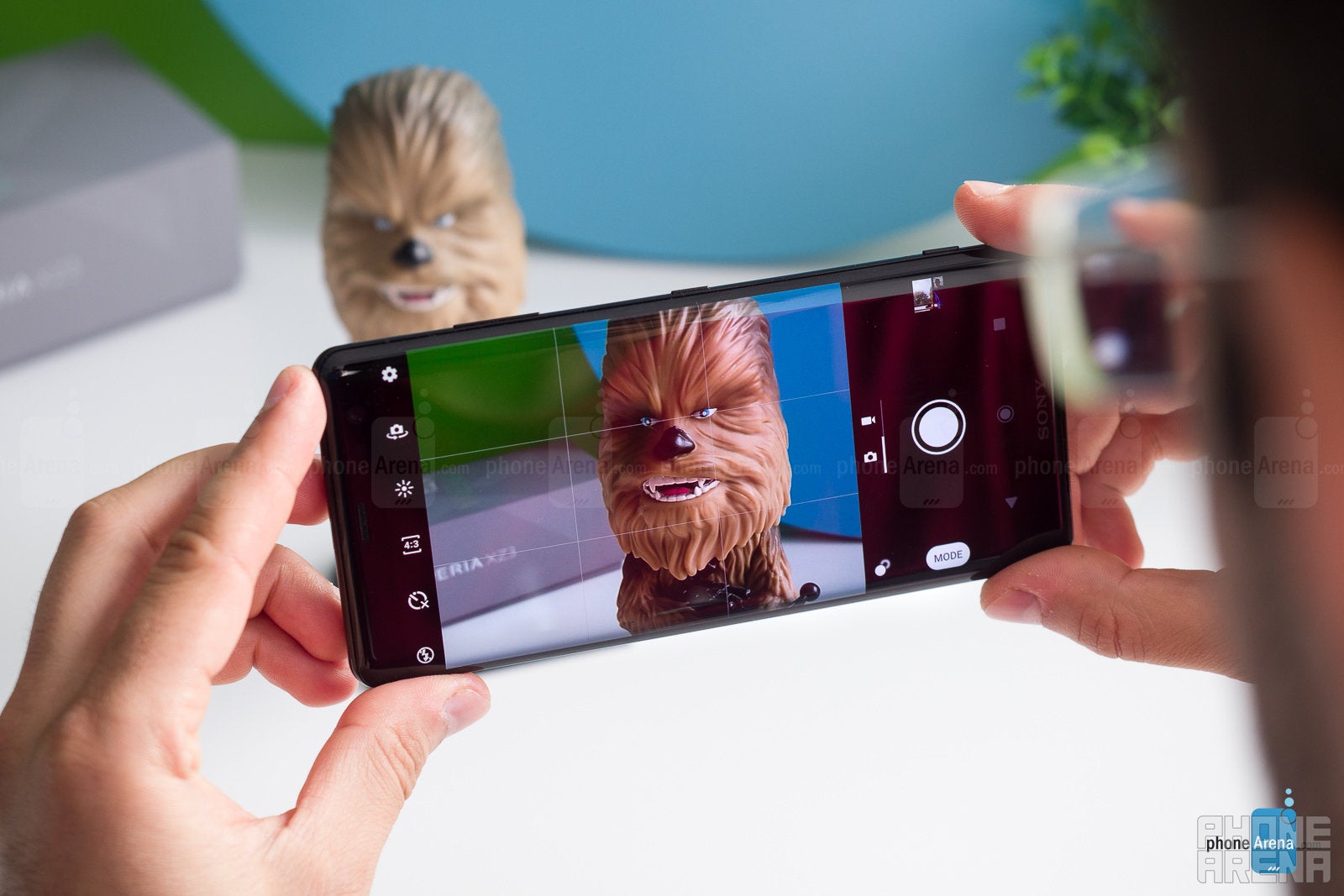 Despite double, triple and more cameras on phones these days, Sony sticks with just one main camera on the XZ3: a 19-megapixel shooter with one of the largest camera sensors in the industry, a 1/2.3" sensor, bigger than what you get on the latest iPhone XS series and the Pixel series. With such a large sensor, it seems that Sony is forced to use a large field of view and indeed the XZ3 features a very wide 25mm lens.
Up front, you get a 13-megapixel shooter for your selfies.
You also get a dedicated 2-way camera shutter button that you can long press to quick start the camera app or use in the camera app to focus and take pictures. It's useful when you shoot pictures in horizontal orientation, but when you are trying to use it to quickly start the app while holding the phone vertically, it's way too low and out of reach. You do have one more way to quickly start the camera app: by just taking the phone out of your pocket and holding it horizontally, a little window appears and you can tap it to shoot a picture.
The app itself has changed and now has cleaner looks with a single "Mode" button from where you access different shooting modes including bokeh, portrait selfie, Google Lens, slow motion, manual mode, panorama and sound photo.
Image Quality
So… how do images turn out?
Not bad at all. The XZ3 captures nice-looking colors during both the day and the night, and photos look very good on the OLED screen of the phone.
Unfortunately for Sony, the XZ3 launch coincides with the launch of the next generation of iPhones and the newest Android phones (cough, Pixel 3) are right around the corner. This is bad news because we have already seen that Apple's iPhone XS series raise the bar for mobile photography further than ever before, and we expect the Pixel 3 to follow suit.
While the XZ3 holds its own against earlier phones more or less well, it does not have the dynamic range of the iPhone XS series, the Note 9 or even the Pixel 2. During the day, this commonly means burned highlights, while at night you get shadows that are too dark, with no detail in them. It also introduces a lot of noise in even daylight shots, something that you notice when you crop in or pixel peep. And at the premium price that Sony is asking, we expect those things.
Selfies from the 13-megapixel front shooter turn out sharp with a priority for exposing the subject of the photo, but often at the cost of burned highlights.
Portrait mode
The weird thing is that Sony seems completely oblivious to the trend of portrait mode on phones where you can blur the background of an image to get that coveted DSLR-like look.
It's not just that Sony does not include a secondary rear camera, it does not include a proper portrait mode at all!
Admittedly, you do have a "Bokeh" shooting mode, but what this option does is take two pictures with a big gap between them and the results are nowhere near what you get from portrait shots on other phones.
Video quality
On the video side, you have support for up to 4K quality, but the maximum frame rate is 30fps (there is no 60fps option here). What you do get is HDR video recording, a feature that most other phones are missing.
The quality of the recorded videos is good and you have excellent video stabilization, but colors in the HDR video recording on this screen look a bit strange and the lack of features like 4K60 make the XZ3 feel behind the pack.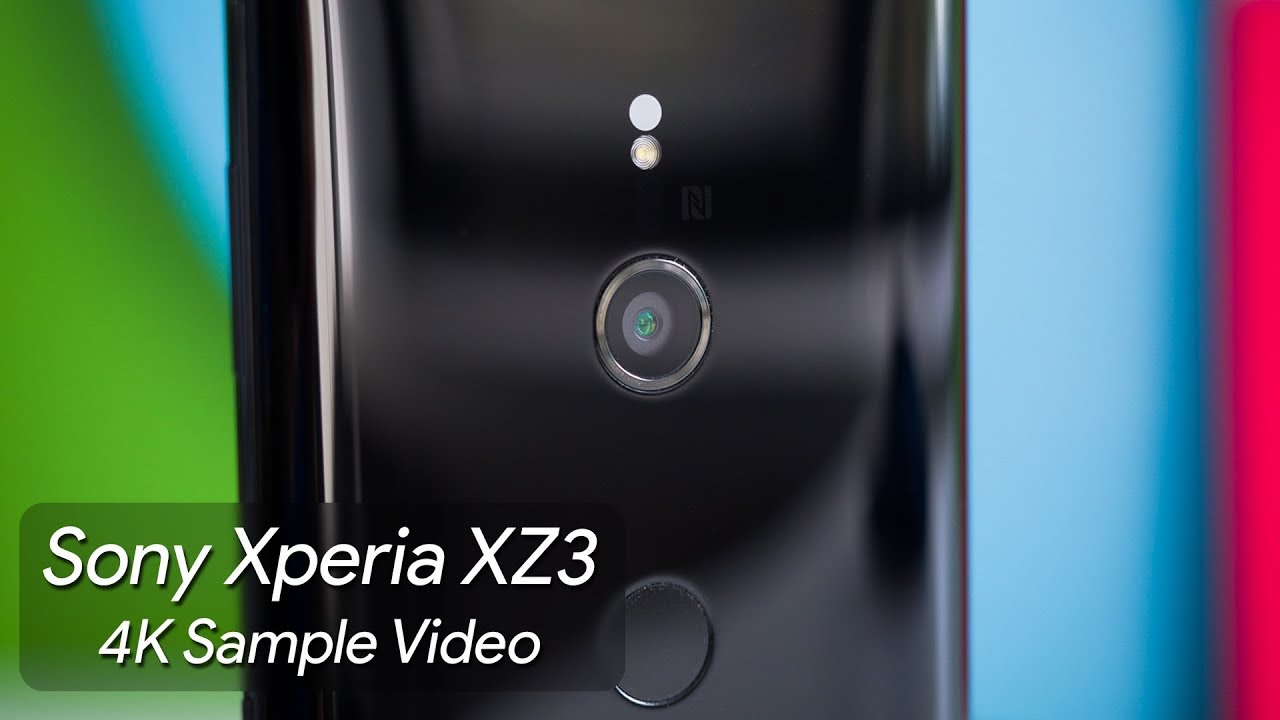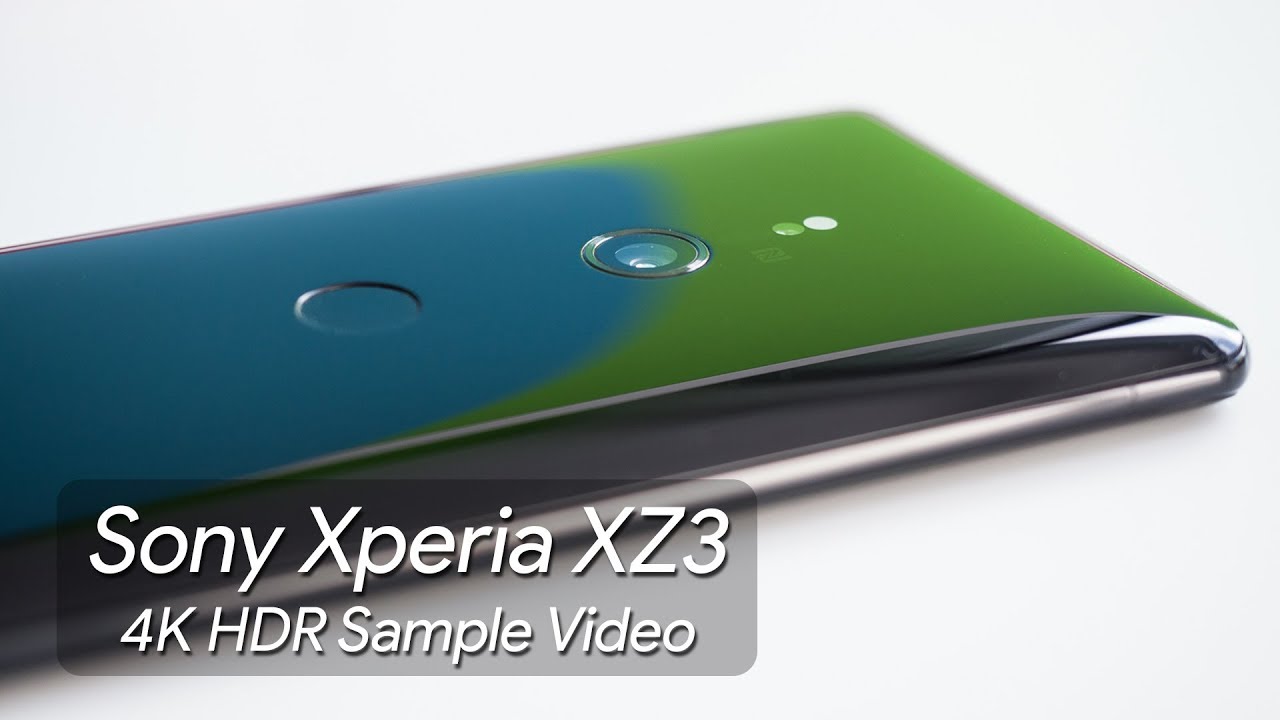 Auto-focusing in videos is also not as zippy as on other flagship phones, something very noticeable in video.
You do, however, get the 960fps super slow motion features where you can slow the real world down 32 times its normal pace. The effect is a short, but impressive video. Sony has had this feature for a while now and while it may not be something you use everyday, it's a fun gimmick.
Sound quality
You have two front firing speakers on the Xperia XZ2 and the quality that comes out of them is very good.
You don't quite have the boom and oomph that you get with the stereo speakers of say the iPhone X or XS, but while the bass and overall volume is not quite there, you can hear a lot of clarity in the mids and voices sound clear and crisp.
While they might not be the very best loudspeakers around, we do appreciate their different focus on clarity rather than bass.
Once again, let us remind you that the XZ3 does not have a headphone jack. It does come with a dongle, so you can still use wired headphones with it, or just go with USB-C buds or wireless cans.
Dynamic Vibration
Along with the music and the games, Sony suggests you try out the Dynamic Vibration for a more immersive experience.
The idea is that you get a responsive vibration from the phone and its huge vibration motor whenever the beat drops or a game enters a tense moment. That is in theory. We tried using this and it just felt awkward. The vibration often happens at random times, sometimes when there is no notable accent, and the whole vibration does more to distract rather than contribute in any meaningful way. We guess the idea is to do something like the vibration feedback you get from console controllers, but the effect is just not the same.
Luckily, you can easily turn this feature off completely, or fine tune the strength of the vibration if you like it.
Call Quality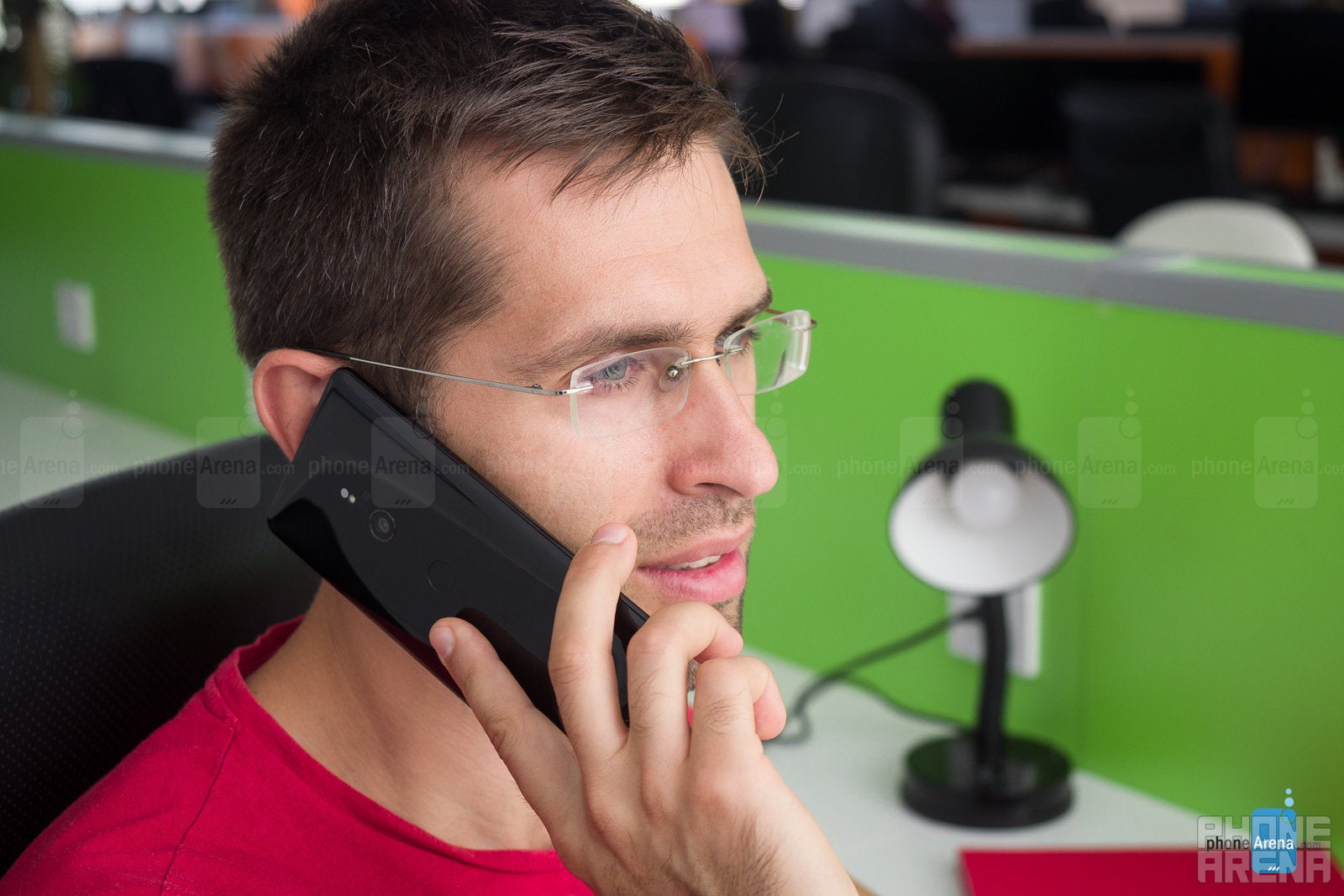 When it comes to call quality, we came away impressed with the XZ3. After some weird issues with a few top-end phones recently, the XZ3 delivers crisp and clear voices through its earpiece and the quality on the other end of the line is excellent as well. Good job, Sony!
Battery life
In one word: mediocre.
The XZ3 comes with a 3,330mAh battery inside, but will it be enough to handle the demands of a Quad HD+ screen?
We were as curious as you to find out, and that is why we tested and tested, and then again tested this phone. On our proprietary test, the XZ3 gets a decidedly mediocre score of just around 6 hours, noticeably less than most other 2018 flagships. We triple-checked to make sure we were doing everything right, but the results didn't change.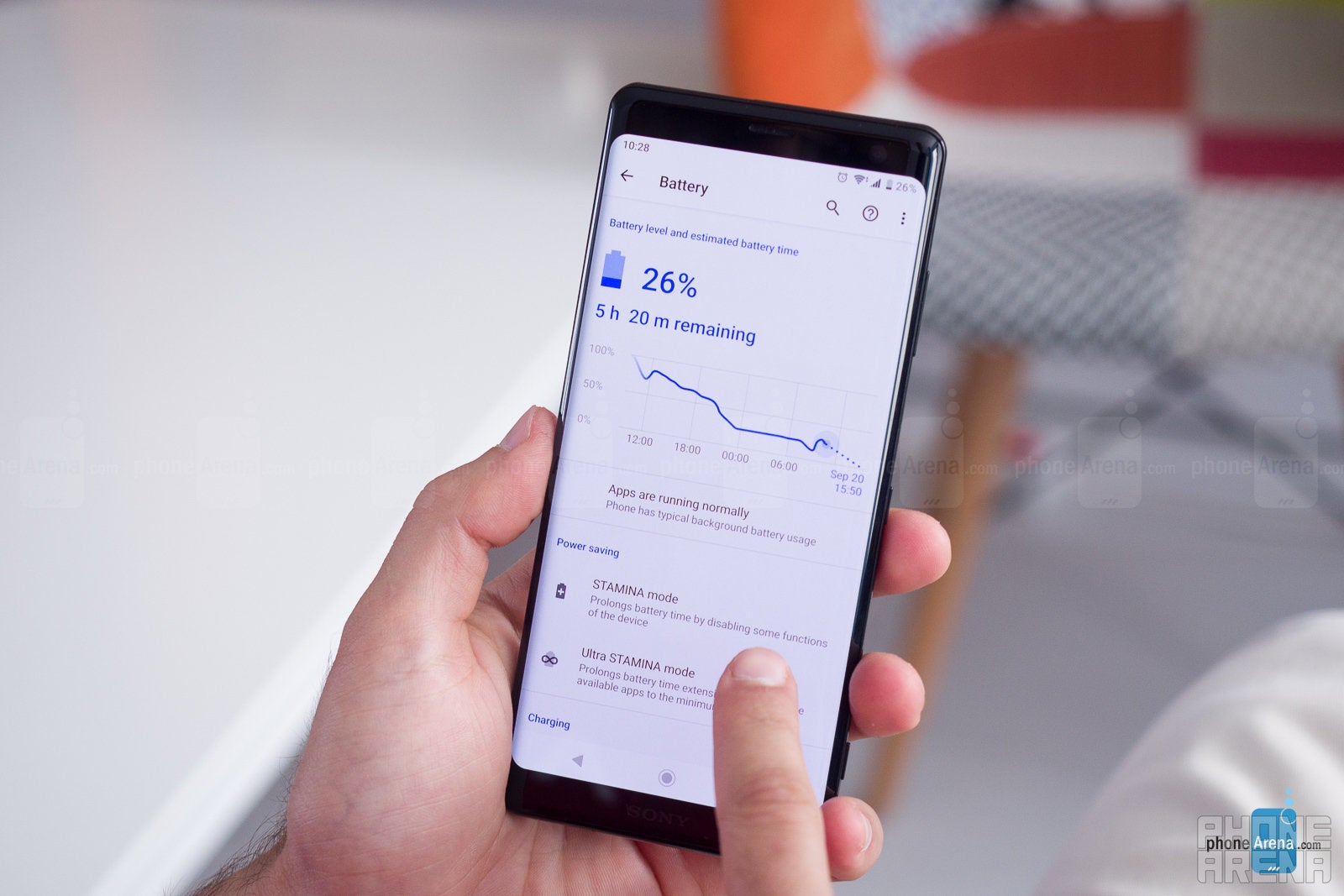 A test is just a test, so we turned to real-life impressions, only to find out that you can eke out a full day of use of the XZ3 with moderate use, but heavier use would drain the battery before the end of the day.
And then, there is the charging situation. The Sony ships with a slow charger in the box that took an excruciatingly long 3 hours to fully recharge the battery. Since this phone does not support the Qualcomm Quick Charge standard, you would need to look for a fast charger that explicitly says that it support the Power Delivery (PD) USB-C standard (for example, the Google Pixel uses such a charger). Using a PD charger, you can get much quicker battery top-up speeds.
Finally, the XZ3 also supports wireless charging with the Qi standard, so you can just leave it on a charger at a desk and not have to worry about cables.
Price and Alternatives
The Sony Xperia XZ3 is a premium phone with a premium price tag to go with it. It costs $900 on Amazon USA in a bundle with a pair of the quite good Xperia Ear Duo in-ear headphones and a wireless charger. It's not available via the carriers and you cannot find it at Best Buy, so that makes it a bit of a limited edition in the US.
Interestingly, the price of the XZ3 in Europe and across the globe is a bit lower than the US price, hovering around the €800 euro mark. That's not quite as high as the price that Apple is asking for the XS series or where Samsung prices its
Note 9
, but it's not too far behind.
Your alternatives for a flagship phone with a premium design and an OLED screen include the usual suspects: the aforementioned iPhone XS series, the
Samsung Galaxy Note 9
and
S9+
, as well as the Google Pixel series and the
OnePlus 6
. The latter two families of phones are about to get their new editions soon, so it's worth waiting for those newer phones, if you like them.
Even compared to these popular and quite expensive phones, the
Xperia XZ3
definitely looks a bit overpriced and we're not quite sure if it brings enough to stand out in this company.
Conclusion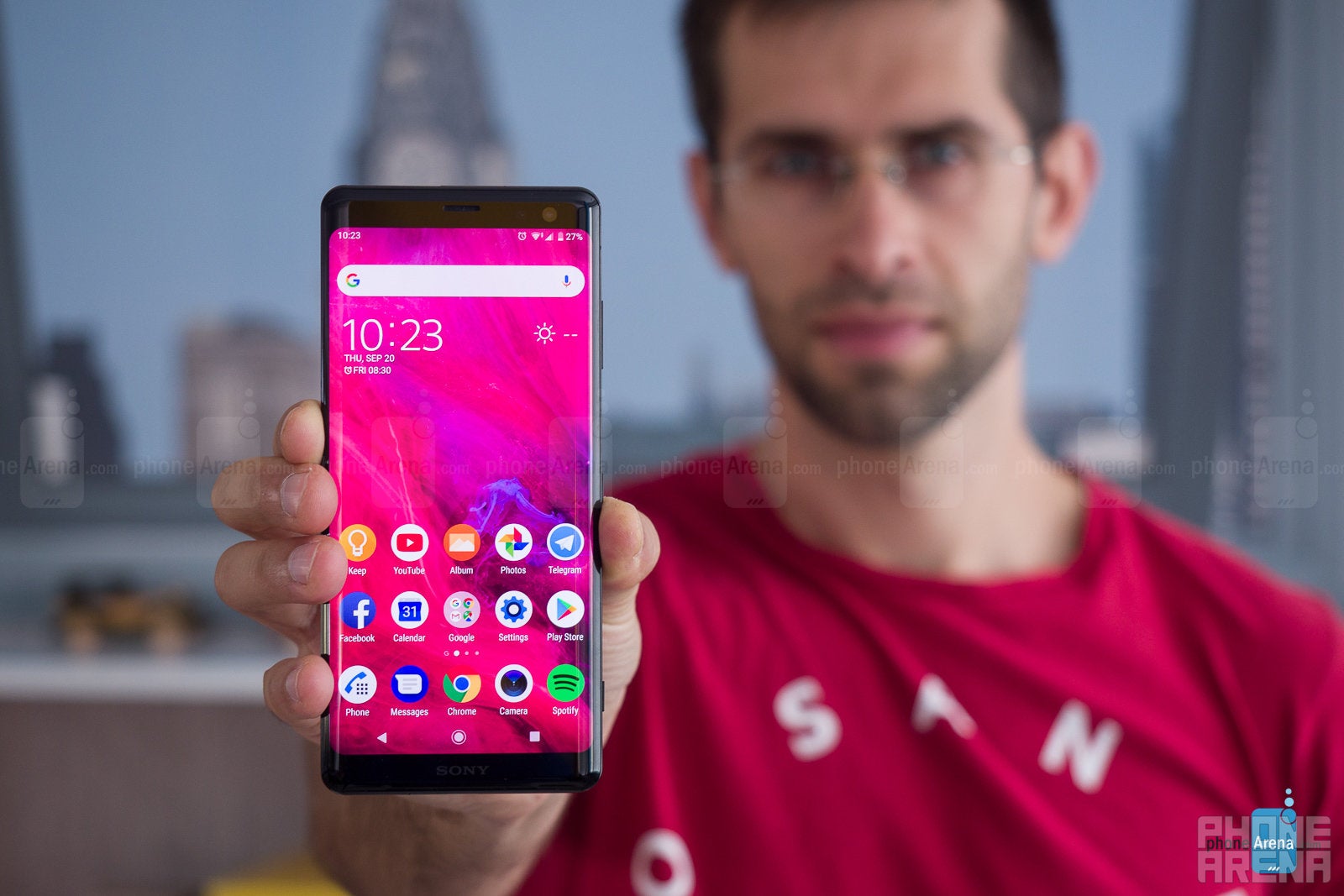 Summing it all up, the
Xperia XZ3
is the most beautiful Sony phone to date and not just in terms of design, but also for the outstanding OLED screen with its mesmerizing colors. The dual speakers also sound amazing, calls in the earpiece sound very clear, and overall, the XZ3 is a joy for all the senses.
The devil, however, is in the details, as they say, and those details are the rather mediocre battery life of the XZ3. In an era of cool gesture interfaces for navigation, not having such an option available is another let-down. And the gimmicks like Side Sense do more to complicate rather than streamline the experience.
All of this leaves us with mixed feelings about the XZ3. This is a phone that impresses the senses, yet lets you down a bit when it comes to pure functionality and features. And for $900, we expect a bit more than that.
Recommended Stories