Sony turns to crowdfunding site to help it fund a smart lock that opens by using a smartphone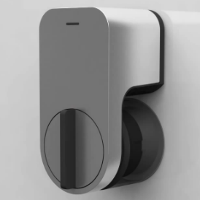 Sony has turned to Japanese crowdfunding site Makuake, to help it raise the funds needed to produce a line of smart locks it calls Qrio. The company behind the products is called Qrio Ltd., and is a joint venture between Sony and World Innovation Lab. Sony has been trying to fast track certain ideas that wouldn't necessarily fit under the Sony banner, by using sites like Makuake. This allows the Japanese manufacturer to limit its financial risk, and get products to market faster than they might have taken under Sony's usual process.
The Qrio smart lock fits on top of your current lock, and requires no tools for installation. With Bluetooth 4.0 engaged, you use your smartphone as a "key" to unlock the door. Temporary spare keys can be sent to the phones of friends, family and even repairmen.
The crowdfunding has been a huge success. With 89 days left to raise the necessary funding, 170% of the amount that Qrio was seeking has already been pledged. Shipments are scheduled to start next May. Retail pricing for the smart lock is expected to be around $130, before tax. But if you head over to the sourcelink, you still might be able to get in on the ground floor and save 20% by pledging to fund the project, even though the desired funding amount has already been more than met.
Four CR123A batteries will go 1000 days before requiring a change. And with no tools needed to install the Qrio smart lock, even the most inept do-it-yourselfer will be able to use it to make their life a little easier. By the way, if you don't understand what everyone is saying in the video below, don't panic. You're not having a stroke. The video is in Japanese, although in this case the pictures really tell the story.
source:
Makuake
(
translated
) via
Engadget