Sony is looking to hire game developers specific to Android
0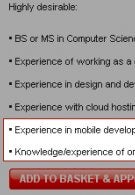 For those of us still dreaming for the day when we'll see a viable Sony Playstation branded smartphone that's worth being relevant, it looks as though that things might slowly be starting to roll for this highly anticipated project. Early last month, rumors started flying around about
Sony Ericsson working on a Playstation branded smartphone running Android 3.0
. Needless to say, it has to be some really high-end device that'll accommodate the needs of hardcore gamers while still taking care of business in the smartphone end.
Now it appears as though Sony is looking for game developers that are experienced in Android after a job posting was found on their site. With that in mind, it'd be hard to fathom seeing this handset become available in time for the holidays. Instead, we'd imagine that consumers would better appreciate this handset if they take their time to really fine tune it and become something extremely desired.
Let's just hope that this doesn't end up meeting the same fate with other Sony Ericsson devices – meaning, that they're announced very early on and finally released 5 or more months later.
via
Android Central