Sony developing animated Emoji movie
15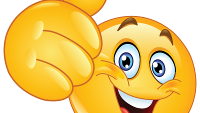 According to a report from entertainment industry sources, Emoji are going to be starring in their own animated feature film. Sony out bid two other studios (Paramount and Universal), paying seven figures for the rights to create the movie. Anthony Leondis will direct the film. His previous body of work includes
Kung Fu Panda: Secrets of the Masters
. Leondis will also co-write the script with Eric Siegel.
We expect that big name voice over actors will get the chance to speak for "
Face with tears of joy
" and "
Smiling Face With Horns.
" Heck, if a movie can be made about Lego blocks, why not make one with Emoji?
What makes this so enticing for the studios is since no one owns the underlying rights to the characters, they are bidding on a plot and a storyboard and don't have to buy the rights to any characters. There is speculation that another Emoji based film is being shopped around to other studios, which could mean more than one Emoji flick makes it to the silver screen. There is no word on when any of these projects will be ready for a premiere.
If the big studio execs happen to be reading this, how about this for a blockbuster feature:
Android v. iOS
. It happens to be currently playing at a mobile carrier store near you.
Thanks for the tip!