Sony Xperia flagships already running Android 5.0 AOSP
8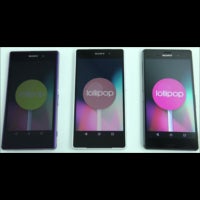 We've already heard about Sony prepping to launch an
Android 5.0 Lollipop closed beta
, where it will give a few select customers the chance to try out the latest build of Sony's UI and help it in improving and having it ready for launch in early 2015.
Now, Sony has announced that the AOSP version of Lollipop is also ready to run on
Xperia Z1
,
Z2
, and
Z3
handsets. Don't be quick to jump in joy, though – the AOSP (Android Open Source Project) is not a user-ready platform for daily usage (for example – it lacks a phone dialer) – rather, it is the basis for developers to create their own custom Android ROM.
Sony has proven to be supportive of its modding community –
just a month ago
, it added the Xperia Z1, Z2, and M2 handsets to the AOSP for Xperia project and uploaded an unified kernel for them – making it easier for developers to create and support ROMs for all 3 handsets. It now promises to add device configurations for the brand-new Z3 "soon", adn that the Android 5.0 binaries will also be provided "as soon as [the developers] can".
If any of this means anything to you, you will probably want to check out Sony's developer blog – link in the source, below.