Sony adds Xperia Z1 and Xperia Z2 to AOSP Xperia project
6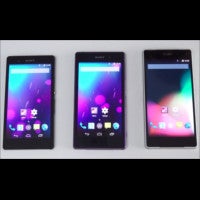 Sony has announced today that its Xperia Z1, Xperia Z2, and Xperia M2 handsets have now been added to the AOSP for Xperia project, and Xperia Z's AOSP has been updated to the latest version. AOSP for Xperia means that the phones get device configurations, which allow them to run vanilla Android, on top of which developers can build their custom mods and skins.
Now, don't be quick to jump in joy, thinking that you can install the configurations on your phone and run an Xperia with Google Android (kinda like Xperia Nexus). Unfortunately, the software has its limitations – the camera does not work and, more importantly, neither does voice calling.
Developers, on the other hand, have a reason to feel (at least a little bit) happy, as Sony decided to create only 1 unified kernel for the new devices, instead of making 3 seperate ones – this should remove a certain amount of back-and-forth thinkering, when supporting your custom ROM, no?
So, if you're interested, head to the link in the source, where you will be able to download all the tools you need to develop under the AOSP for Xperia project.