Sony Xperia Z2 Tablet specs review
9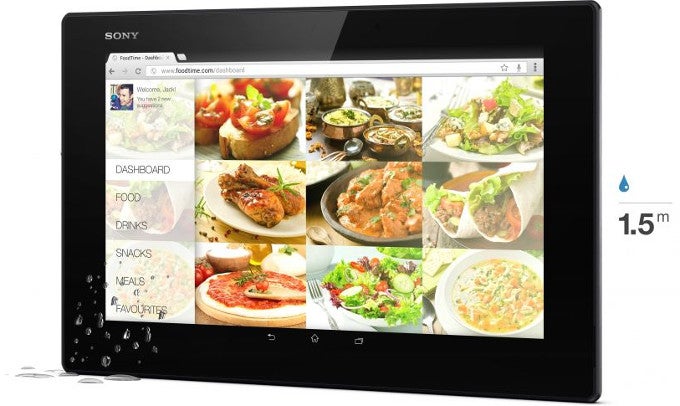 Sony outdid itself again with the newly-released
Xperia Z2 Tablet
. After releasing the world's thinnest, lightest 10" slate last year with the
Tablet Z
, now it unleashes on the unsuspecting masses another slim boomerang, that takes those same superlatives away from its predecessor. Moreover, Sony managed to keep the tablet waterproof, and with IP58 certification at that, so let's dive five feet deep into the spec sheet of Sony's newest Android KitKat slate.
Design
Clocking in at the breathtaking just 0.25" (6.4mm) girth, the Xperia Z2 Tablet is also the lightest of them 10" slates, weighing only 15 ounces (426g) for the Wi-Fi model, and 15.5 ounces (439g) for LTE/3G model. For comparison, the Tablet Z is 6.9mm thin, and weighs 17.46 oz (495 g), while the venerable
iPad Air
is 7.5 mm, and with 16.86 oz (478 g) of weight, respectively, with a tad smaller display. Check out the full list of the world's thinnest tablets currently in stores, and marvel at Sony's engineering prowess, as the Z2 Tablet will occupy the top of that list, once it hits the shelves in March.
World's thinnest tablets roundup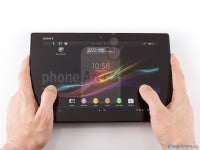 Pro 7
app for free.
You can accessorize it for entertainment and telephony as well, with Sony's new BSC10 Bluetooth Speaker dock with Magnetic Charging Pad, the DUALSHOCK3 wireless gamepad, or the BRH10 Bluetooth Remote with Handset Function, that lets you make calls with the LTE/3G variant of the slate.
Display
Triluminos
1920x1200 pixels IPS screen on the Xperia Z2 Tablet. Called Live Colour LED, it uses red and green phosphor with blue LEDs, and has tailored color filters on top, that allegedly produce brighter and more evenly spread lighting. The end result should be more vibrant colors on the display, yet without the accompanying oversaturation of some displays, like the OLED ones.
In addition, Sony's X-Reality for mobile engine analyzes the image output in real time for artifacts, colors, sharpness and contrast, and makes sure the digital noise is boiled down to a minimum.Some may scoff at the resolution, given that we have high-end slates with 1600p screens, but most of those use an alternative
"diamond" pixel matrix arrangement
, while the Z2 Tablet's 1200p is still more than enough for most purposes
Processor and memory
Sony's new fashion model is powered by the fast
2.3
GHz quad-core Snapdragon 801, which is a vast improvement over the measly
Snapdragon S4 Pro
, that last year's Tablet Z shipped with. The Xperia Z2 Tablet also comes with 2 GB of RAM, and 16 GB of internal memory, expandable via a microSD slot. This processor will be just a step below Qualcomm's new
Snapdragon 805
, which won't be in devices before the summer, which will ensure the Z2 Tablet relevancy in the silicon department, at least until next year's edition.
Camera and sound
The 8 MP Exmor R camera sensor on the back of the tablet sports an LED flash, and all the bells and whistles you'd expect from Sony's camera app, like automatic Scene Recognition mode, or an HDR photo regime.
The Xperia Z2 Tablet also offers new Digital Noise Cancelling technology, that allegedly weeds out up to 98% of the ambient noises when listening to music, but only when the tablet is paired with Sony's MDR-NC31EM Noise Cancelling headset. The technology is known as Active Noise Control - it cuts the lower-frequency tracks of the noise, and stops the high-frequency noise from hitting your ear, too.
Battery
A 6000 mAh battery is nothing to write home about on a 10-incher, but we guess that's what managed to fit in the extremely thin chassis of the Z2 Tablet. Still, Sony claims the typical for an Android tablet up to 10 hours of video playback on a charge, and 100 hours of listening to music. Sony's Xperia Z2 Tablet also takes advantage of the Quick Charge 2.0 technology, that comes with Qualcomm's chipset, offering up to 75 percent faster charging.


There will be black and white Xperia Z2 Tablet options, with or without cellular connectivity options, like 3G or LTE radios. Sony says that the new slate will be outed some time in March, carrying the latest Android 4.
4.2
KitKat. The only iffy detail so far is the pricing, but we hope it won't be higher than your typical good Android 10-incher, which might make the thinnest, lightest waterproof slate a winner.