Nvidia Tegra 3 getting heat from Qualcomm Snapdragon S4 Pro
24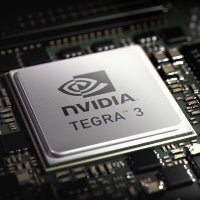 The Nvidia Tegra 3 was all the rage in the beginning of 2012 as it was one of the first quad-core chips on the market. Fast forward to later on in the year and nearly every high-end smartphone out there is now running on Qualcomm's Snapdragon S4 chip.
And for a good reason - Qualcomm was the first one to go on the 28nm manufacturing node, which translated into better power efficiency and it is the first to include an on-chip LTE module. And now Taiwan supply chain sources say that because of the better performance to cost ratio, the Tegra 3 is feeling the heat.
Nvidia's chip is still in some of the high profile launches this season like the Google Nexus 7 tablet and the Microsoft Surface RT tablet, but Tegra smartphones are having middling sales and this might hurt Nvidia's margins in 2013.
Nvidia's highest profile smartphones for the year include the international version of the HTC One X and the LG Optimus 4X HD.
Qualcomm on its part is starting getting even more aggressive in lower-end devices as well, announcing chips that can compete against the likes of MediaTek, the most popular chip maker for low to mid-range Chinese smart devices.
source:
DigiTimes