Sony Xperia Z Ultra in Wi-Fi-only form might have cleared the FCC
7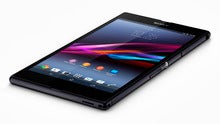 Now that's interesting. Apparently, Sony might be working on a new portable Android gadget – a Wi-Fi-only version of its 6.4-inch phablet, the
Sony Xperia Z Ultra
. Or at least that's the conclusion we've arrived at after inspecting the Sony TS-0010 at the FCC, where it is listed as both a
"portable handset"
and a
"portable UMPC mini-tablet"
. The device in question doesn't have any cellular radios on board, according to the filing. What it
does
support, on the other hand, is a broad range of connectivity features, including Wi-Fi (802.11 a/b/g/n/ac), Bluetooth 4.0 Low Energy, NFC, and GPS. Its exact proportions are listed as well. In fact, the size of this Sony device reveals that it is indeed closely related to the Sony Xperia Z Ultra.
As always, the FCC database reveals no details as to what hardware hides under the hood of the Sony TS-0010. It could be a carbon copy of the Sony Xperia Z Ultra, save for the lack of cellular connectivity, or it might be a downgraded version. The specific name, by which this mini tablet will be known, isn't being mentioned either. Not that its launch on the US market, or anywhere else in the world, is guaranteed, that is. We'll keep an eye out for Sony's new gizmo and let you know as soon as we learn more on the matter.