Sony Xperia XZ3 vs Samsung Galaxy Note 9: which one would you buy?
35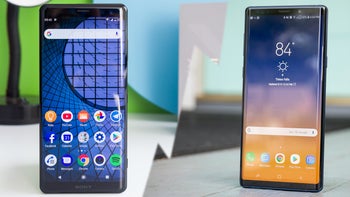 So, the
Xperia XZ3
is out and it's certainly one of the most unique and progressive Sony flagships to come out for a while. Sure, the
XZ2
was first to get its foot through the door into the modern smartphone world, but the XZ3 feels like the proper evolution for Sony. We have an 18:9 ratio, 6-inch OLED screen with curved sides on the front, next to no side bezels, great front-firing stereo speakers, a good camera, and a beautiful and ergonomic glass back.
Oh, also, the Xperia XZ3 costs $899.
But do you know who else had no problem inflating their prices recently? Well, basically everyone, since Apple's
$999 experiment
turned out to be a success last year... Anyway, we were about to talk about Samsung.
The
Galaxy Note 9
is the company's most advanced smartphone to date. It packs a huge battery, a mindboggling amount of features, a sleek design, and that signature S Pen. And it costs $999.
So, we were wondering — if you were about to drop that much money on a smartphone, would you go for the $900 Xperia XZ3 or the $1,000 Galaxy Note 9?