Sony Xperia XZ vs Samsung Galaxy S7 Edge: quick first look comparison
20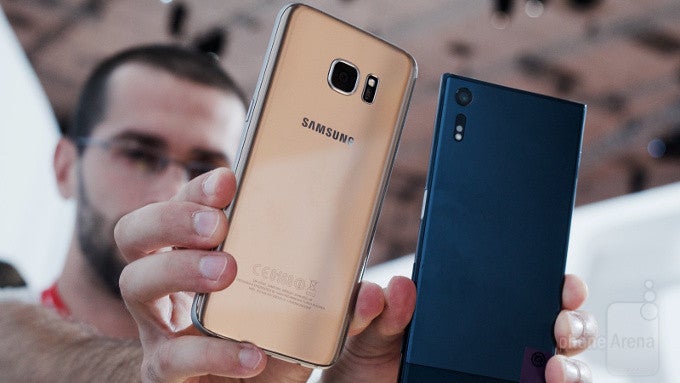 The Sony Xperia XZ is the new kid on the flagship block: and it comes dressed in a new and shine metal armor, featuring a brand new camera and battery that aims to stand the test of time not just for a day or two. Its meant to remain healthy in the long run. Add USB-C for charging and cool new water-protection capabilities, and the XZ shapes up to be more than ever a valid rival to the big guys in town.
One such big and bad rival that will meet the XZ on the fiercely competitive smartphone market is the Samsung Galaxy S7 Edge. Lacking in no feature, and with the added muscle of its futuristic edge display, long-running battery, and tricks such as Motion Photos and Always-on display, it's a smartphone extra-ordinaire that is hard to beat. Let's see if the new Xperia XZ stands a chance against it.
Sony
Xperia XZ
Samsung
Galaxy S7 Edge
Platform
Sony skin
on top of Android 6 Marshmallow
Samsung TouchWiz
on top of Android 6 Marshmallow
Dimensions
146 x 72 x 8.1 mm
161 g
150.9 x 72.6 x 7.7 mm
157 g
Display
5.2-inch IPS LCD
1080 x 1920-pixel resolution
5.5-inch Super AMOLED
1440 x 2560 (Quad HD)
SoC
Snapdragon 820
Snapdragon 820
RAM
3GB
4GB
Storage
32 GB
expandable via microSD cards
32 GB
expandable via microSD cards
Camera
23-megapixel w/ laser AF
8MP front cam
12-megapixel f/1.7 with Dual Pixel AF
5-megapixel front cam
Battery
2,900 mAh
3,600 mAh
Extra features
IP68 water protection
IP68 water protection
Design: water-protection comes to Sony's flagships
The Sony Xperia XZ marks a new directon for Sony flagships: the XZ moniker is the first of this new series of flagships, and with it comes a new 'loop' design with tapered edges and a durable metal alloy on the back that Sony calls Alkaleido. This compares with the glass body and metal frame of Samsung's Galaxy S7 Edge that are stylish and good-looking, but also absolute fingerprint magnets and glass just predisposes you to ruin the looks of a phone with a protective case.
On paper, there is a very slight difference in the thickness of these two, but in real life the Galaxy S7 Edge seems much more sleeker and a bit better fitting in the hand, while the Xperia XZ definitely feels chubbier and edgier around the corners.
Also, finally more waterproof phones! The Xperia XZ joins the Samsung Galaxy S7 Edge to the pool party with its IP68 certification that allows you to use both phones in the rain or even take the occasional picture or short video under water in the swimming pool.
Performance and Interface: Sony's skin is light and fluid
While both the Sony Xperia XZ and Samsung's Galaxy S7 Edge run on the Qualcomm Snapdragon 820 system chip (as is practically every flagship this year), there is still a subtle difference in the performance of the two.
TouchWiz is still Samsung's weak point
It's way too early for conclusive judgment, but Sony's light and almost unchanged throughout the years custom skin remains one of the fastest and smoothest experiences on top of Android. Samsung's TouchWiz UI is heavier in terms of modifications, but also retains a bit of that very slight stutter every here and there that make it feel a bit sub-par when held up to that elusive gold flagship standard.
At the same time, Samsung still excels in a few particular places: its keyboard experience and finely tuned tactile feedback make for one of the fastest and most satisfying typing experiences on a phone, while Sony's on-screen keyboard does not feel as fast or accurate.
We still feel like Sony's side positioned fingerprint scanner falls right where your finger resides and that's nice, but we've had a lot of situations when we need to unlock the phone without reaching for it, and in this case a front positioned fingerprint scanner is much more convenient.
Camera
For years on, Sony has had sky-high ambitions for the camera of its phones, and for years on, it has failed them. The Sony Xperia XZ again aims for the clouds, but the camera interface lacks the fast one-tap shortcuts and convenience of Samsung's one, and is much slower to start and there's a noticeable slowdown between shots. Those are initial impressions that we are yet to confirm in a more substantial review. It's fairly obvious even now, though, that the Galaxy S7 Edge has the fastest camera and more handy camera interface.
In terms of image quality, we've only had the chance to snap a couple of pictures with the Xperia XZ. Comparing full 23-megapixel output from the camera and Sony's smart 8-megapixel processed pictures, we like the latter a bit better as they feature the better dynamics and punctuation. The Galaxy S7 Edge is often blindly quoted for being 'the best' camera around, but its fast Dual Pixel focusing system seems to have forced Samsung to retort to some overly aggressive oversharpening to images, which gives them a rather unnatural look. We reserve the right for a conclusive judgment on image quality for our final review, though.
In terms of video output, both support 4K recording at 30 frames per second, and Sony is particularly proud about its software, 5-axis image stabilization. We've found the results from this stabilization very promising and maybe even a bit better than the combination of Samsung's OIS and electronic stabilization in the Galaxy S7 Edge.
Battery life expectations
With no time to do detailed battery tests, it's hard to say much about battery life on the Sony Xperia XZ. What we do know is that it packs a fairly large for its 5.2" form factor 2,900 mAh battery that is not user removable. Sony is not talking about battery life on this phone at all (although we will be looking at that in great detail in the final review), but what it's actually saying is that with this Xperia generation, the focus has been on preserving the health of the battery and its longevity long-term.
It's an uphill battle for Sony
Sony avoids excessive charging by smartly pausing the charge when your phone reaches about 90% at night and only resumes shortly before your usual wake-up time, so you can still start the day with a 100% charged phone.
Still, it has a tough opponent in the form of the Samsung Galaxy S7 Edge, which has proven to have solid battery life and ultra-fast quick charging. We're yet to see how a few months of use have affected the battery life of the Galaxy S7 Edge, but that's a test for the future.
Overall expectations
Sony is not making it a secret: the Xperia XZ is its next flagship and will be priced like one. In the meantime, the Galaxy S7 Edge has withstood the test of time admirably: Samsung is now selling the phone for just slightly north of $600, while the usual flagship price that the Xperia XZ should assume is in the $650 to $700 range.
The Xperia XZ has its fast-performing skin and a different, but not necessarily superior design, plus it adds waterproofing and a convenient USB-C port. However, is that really enough against Samsung's long list of features? We have not even touched on the extras that the S7 Edge offers: the edge functionality and cool factor, Motion Photos and different camera modes including Hyperlapse, the useful Always-on display, and the features that we have covered work better on the Galaxy S7 Edge: its camera is excellent and faster, its display is brilliant, and it has solid battery life. The only thing that Samsung is still to get perfectly right is TouchWiz and daily performance.
At the end of the day, despite all the hype around a new product, we're still hard-pressed to find much in terms of objective reasons to get the new Xperia XZ over the half-a-year-old Galaxy S7 Edge. Our expectations are tuned accordingly.