Sony Xperia XZ Premium price and release date
6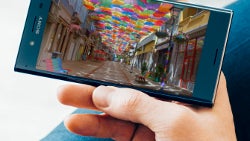 If you have been waiting for that
elusive Galaxy S8 with the rumored 4K display
, you will probably be in for a disappointment, as Samsung will most likely
use a "regular" Quad HD resolution
on the phone's display, preventing you from obtaining a better virtual reality experience. Another phone maker, however, issued a phone with a 4K display out of the blue, and that one is, surprise, surprise - Sony again.
The first handset with 4K display resolution - the
Xperia Z5 Premium
, is now getting a successor, the XZ Premium. It comes not only with 4K resolution for the 5.5" LCD panel, but is also stuffed to the gills with other niceties like a top-shelf
Snapdragon 835 chipset
, HDR certification for the screen, and 64 GB of storage, as well as a new 19 MP sensor that can do amazing slow-motion tricks.
Don't expect that puppy to be cheap when it ships this spring, though, but the good news is that the XZ Premium will have a US premiere, and the pricing for America will be announced soon, promises Sony. Given that the smaller Xperia XZs that was announced concurrently, will cost $699 when it lands April 5th, expect at least $799 for the XZ Premium.
Recommended Stories