Sony Nexus X was a fake, and the failure of our reporting
52
This article may contain personal views and opinion from the author.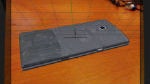 We all wanted to believe it, because we all really want to see what a Sony Nexus device would be like, but unfortunately we were all fooled this past week. And worse, the entire tech news community failed in our reporting of the story. The
story came to us
via a tip from a reader this past Monday, and we reported it as unsubstantiated rumor, but that wasn't quite enough.
The originator of the Sony Nexus X images has explained how this all happened to Gizmodo, and it's really a bit embarrassing for the tech news community. Ti Kawamoto says that he was just a graphic designer who was practicing his 3D modeling skills by putting together a concept of a Sony Nexus device. He made a new Picasa account, uploaded the pictures, and then just 16 hours later, with no action on his part, the pictures were picked up by the first mobile news blog, XperiaBlog, at 9:30AM. By 10, the story had spread to other mobile news sites (and hey, Phone Arena gets front and center billing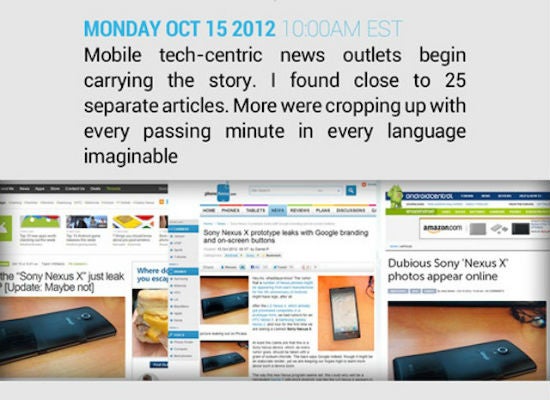 in the infographic timeline!), at by 10:30 it was picked up by The Verge, at 11 Gizmodo also ran the story, and finally at 1PM TechCrunch joined the party. At the end of it, a Google News search for "Sony Nexus X" came up with 521 articles, and a general web search came up with 90,000 sites referencing the news. But, here's the really embarrassing part:
at no point during that time did any news site (including us) even attempt to contact Ti
, or rather the pseudonym used on the Picasa account, a one Mutul Yeter. That's a big failure right there, and we do apologize for the oversight.
The fake was quite a well done one though. It slipped past the Photoshop test, because it wasn't completely created in Photoshop and had none of the normal markers. The images were 3D renders, made with Blender 2.63, of the device superimposed on real images of Ti's desk. Ti said that the most important thing in creating the model was to know his audience, and therefore the minutia of design from both Sony and Nexus devices. When reporting on the original images, we said that the device looks like an adapted Xperia T, and there was a reason we thought that.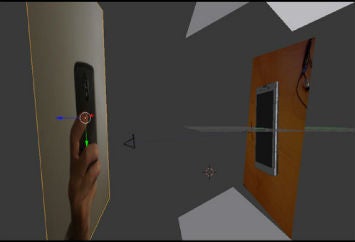 Apparently, Ti used a mixture of the Xperia TL and the Xperia Ion when designing the device. The camera and micro USB design and placement were borrowed from the design of the Xperia TL, while the power/volume/camera buttons, the sharp corners, rear speaker, and "big ass hump" were taken from the Xperia Ion. To make it a Nexus, Ti simply added the Google logo, and the pogo pin connector on the side. Ti bumped up the realism of the image by adding in scuff marks and scratches, to make it really look like a beat up prototype.
Overall, it was an impressively made fake, but a fake nonetheless. And, it's an extra hard one for us, because Ti has not only come out to explain his fake, but to shame the news community for how quickly we accepted it. We will admit that we are sometimes lax in our due diligence, and instead defer to simply reporting something and clearly labeling it an unsubstantiated rumor. It's a bad habit, and one that we have to try to fix, because we tend to strive to bring you guys news faster, even at the expense of not following up enough.
Of course, when we mess up, we also want to bring you the correction and apology as quickly as possible as well. We all wanted the news of a Sony Nexus to be true, so maybe we didn't work as hard as we should have to check the facts, and we're sorry about that. Still, Ti was able to achieve his secondary goal, which was to broaden the discussion of a possible Sony Nexus. We've certainly been talking about it. Now, we're just hoping that Sony and Google saw the excitement in the user base, and maybe a Sony Nexus will become a reality sometime soon.