Sony Ericsson Xperia X10 to score multitouch in September with upgrade to Android 2.1?
This article contains unofficial information.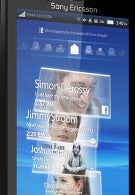 It was as recently as the beginning of this month when we
reported
to you that a Sony Ericsson spokesman put the kibosh on the Xperia X10 supporting multitouch. The spokesman said, "It is correct that the
X10
will not support multi-touch. However with the
X10
's signature applications, the
X10
offers an excellent user experience." Translated, it says that even though the X10 will not feature multitouch, you should still buy the phone because it is fun to use. But there apparently is still a chance that the joint venture's first Android powered phone will have multitouch as a feature. The guys at Mobiles.co.uk say that a rep for Sony Ericsson told them during the European launch of the phone, that a "big" update would be coming in the second half of the year-perhaps in September. The talk around the water cooler is that the "big" update is Android
2.1
. Mobiles' source at the joint venture insists that the current limitation on multitouch is not a hardware problem, and that upgrading the firmware to allow for things like "Pinch-To-Zoom" is still very much possible and is being discussed.
The bad news for Sony Ericsson is that even if an upgrade comes to be in September, those who have been waiting for the X10 to be launched will have been tempted by a slew of super powered handsets including the HTC EVO 4G. By the time a U.S. carrier launches the X10, it might be too late for the phone to gain any traction in the States, multitouch or no multitouch.
Sony Ericsson Xperia X10a Specifications
|
Review
(European version)
source:
CellPhoneReviews