Sony Ericsson confirms that the Xperia X10 will not have multitouch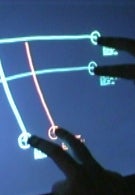 Does Sony Ericsson really want to challenge the top handset makers on the globe? The joint venture has shot itself in the foot so many times that you wonder what its real intention is. When the Xperia X1 was launched, lack of a U.S. carrier held back sales. One of the few places that sold an unlocked version in the States was Best Buy Mobile and with a highly exorbitant price for a handset that really had no special features outside of a unique panel based UI, the phone was barely seen on U.S. soil. Now enter the Xperia X10.
Running on Android 1.6, Sony Ericsson once again seems to be cutting off its nose to spite its face. While the X10 has flagship style specs like a 4 inch screen with DROIDesque resolution of 480 x 854 pixels, an 8.1MP camera and the Timescape and Mediascape interfaces, one thing that the phone will not have is multitouch. That means no Pinch-To-Zoom in the browser even though all of the cool phones are doing multitouch these days. Perhaps Sony Ericsson is being too much like a protective parent. A spokesman says, "It is correct that the X10 will not support multi-touch. However with the X10's signature applications, the X10 offers an excellent user experience." This could be a major mistake for Sony Ericsson because if they are thinking that no one really cares about pinching in the browser and staring at Live Wallpaper, they should take a look at how highly anticipated the Android
2.1
update is for DROID owners who have just started to see the upgrade rollout this week. Further more, the Xperia X10 could very well repeat the same mistake made by the X1 and end up being sold in the U.S.as an unlocked device without a carrier.That would prevent buyers from getting a low, subsidized price for the model. It is hard to believe that Sony Ericsson would let all of their hard work on the X10 go to waste by offering an expensive unlocked model running Android 1.6 without multitouch. If things stay as they are, the unit will trail top Android handsets like the DROID and Nexus One, not to mention the newer batch of handsets about to be released in a few weeks lke the HTC Incredible and the Samsung Galaxy S to name just a couple.
Sony Ericsson Xperia X10 Specifications
|
Review
source:
AndroidandMe