Sony Ericsson Xperia PLAY Review and more coverage
11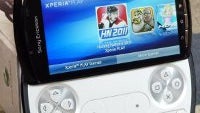 No matter how we slice it, the
Sony Ericsson Xperia PLAY
is a unique handset. There is something strangely comforting in having a dedicated gamepad under your fingers, that no touchscreen can replicate. And now, Verizon Wireless customers are no doubt excited as they can also experience the PlayStation phone in their hands!
But let's get to that gamepad, shall we? When we take into account this is a PlayStation-style gamepad, with its trigger keys and analog pads, carrying the iconic PS action buttons, it is not hard to deduce that the
first specialized Android gaming handset
will have its fair share of admirers, regardless that it's lacking a dual-core chipset. The
crazy Xperia PLAY commercials,
which include stitching opposing thumbs to little green robots, partially make up for it.
We coral our coverage of the Sony Ericsson Xperia PLAY with this article, to make you a one-stop shop for everything related to this unorthodox handset. From old PlayStation titles, through classic game emulator play, to titles written specifically for the Sony Ericsson Xperia PLAY, we are listing it all, right here:
Sony Ericsson Xperia PLAY Review - we leave no stone unturned in the quest to discover the merits and drawbacks of the first dedicated gaming phone in the camp of the green robot
Sony Ericsson Xperia PLAY benchmark results don't break any new ground (video) - we test the graphical prowess of the Qualcomm MSM8255chipset with Adreno 205 graphics onthe Xperia PLAY
Recommended Stories