Sony Ericsson Xperia PLAY gaming software demo
1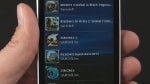 Besides all the games that you'll be able to download and play on the
Sony Ericsson Xperia PLAY
, what else could be just as important on this gaming-centric phone? Why, the software that would allow you to download and manage these games, of course!
Thankfully, the Sony Ericsson Xperia PLAY comes with a few offerings in this department that will make using the handset's entertainment functions a breeze. To start with, there's the
PlayStation Pocket
app, which currently holds only the Crash Bandicoot PS one classic. So, we guess that is where all the other classics, which will eventually become available, get into.
Then we have the
Get Games
app, which is basically a list consisting of all the titles currently optimized for playing on the Sony Ericsson Xperia PLAY (about 40 games right now). Upon clicking a certain title, you're sent to the respective store from where you'll be able to purchase/get it. Pretty neat stuff as a whole. Sony Ericsson has even tailored a widget that grants you quick access to the titles found in the PlayStation Pocket and Get Games apps.
Last, but not least, as soon as you slide the gamepad open, you're greeted to a simple interface, which lets you easily pick the game that you feel like playing. So now that we've told you about it, you can actually see all this in the video below... enjoy!