Sony Ericsson strikes with two more Xperia PLAY ads, controversial as ever
19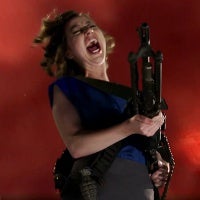 In the last few months Sony Ericsson has made a name for itself with its... Xperia PLAY ads. Some people characterize them as disturbing, others say they are brilliant, but all seem to agree they are... just a little bit creepy.
Now we have spotted two more of these Sony Ericsson Xperia PLAY ads featuring the ever-charming (or disturbing?) Kristen Schaal doing her thing, i.e. showing-off all the wonders that the newly-released (in some parts of the world) Sony Ericsson flagship model offers.
We won't give you too many spoilers, but let's just say that in the first ad Ms. Schaal, equipped with an Xperia PLAY, annihilates (including verbally) a version of herself that's playing on just another smartphone.
In the second promo, she teases the daily business tasks you can do with your Sony Ericsson Xperia PLAY, and then suggests some rather different ways to deal with your business rivals. Sweet.
Take into account these videos are not appropriate for all audiences, so if you are below the age of
21
15 or above the age of 55 you would better not watch them. It's for your own good.
source:
Sony Ericsson (YouTube)