Sony Ericsson Xperia PLAY Design Overview
1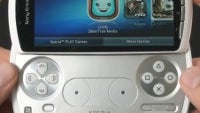 The Sony Ericsson Xperia PLAYpromises to be the ultimate portable gaming phone for humans and witha slide-out gamepad, we've got all the reasons to believe the XperiaPLAY's ambitions. Watch the design and the durable slidingmechanism on this handset as we walk you through the exterior of theXperia PLAY.
While the gamepad is certainly ready totake the heavy beating ahead of it with its tight opening mechanism,the screen is almost equally as important. What we have on the handset is a 4-inchdisplay with a nice resolution of 480 x 854 pixels. You can trulyappreciate the screen estate as the display is unobstructed by yourhands when playing, but while the detail level is reasonable, we wereslightly disappointed by the dimmed out colors on the screen –check out the video below to see it yourself.
In terms of design, the Xperia PLAYbrings its human curvature design with the signature roundedshapes of Sony Ericsson handsets. The phone is pretty thick by today'sstandards at 0.63" or 16mm, but that's largely due to the gamepad.With a weight of 6.17 ounces or 175 grams, it literally is a gamingheavyweight. Overall, though, the build feels solid and adds to thefeeling of holding a capable machine. Take a look at the video belowto see the highlights of the handset's design and stay tuned for alook at the real gaming experience – coming soon!