Sony CEO to kickoff CES 2014 with keynote speech
29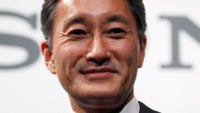 January will be here before too long, and with it will come CES 2014. It was announced on Sunday that the honor of kicking off the festivities with the keynote speech will go to Sony CEO Kaz Hirai. Sony has recently had success showing off new handsets at CES. In 2012, the
Sony Xperia S
received some attention with its thin translucent strip
near the bottom of the device. Last year, we named the Sony Xperia Z
the Best Smartphone at the show
and the device
wowed the crowd by showing off its resistance to water.
Ironically, just as its CEO is about to take center stage to kick off this annual, high-profile event, Sony might not be displaying any more phones like the Xperia S and Xperia Z at CES. Earlier this year, we were told exclusively by a tipster that Sony will no longer present flagship phones at the show. This is apparently all part of the
Japanese based manufacturer's campaign to prevent leaks
by tightening up the rules on who can handle a prototype device.
The
Sony Xperia Z1
was
heavily leaked under the Sony Honami code name
. By the time the phone was officially announced by Sony, practically all of the specs and the design of the phone had already been known.
By the way, in case you are the curious type, or need to settle a bet,
Qualcomm CEO Paul Jacobs gave the keynote speech
for the 2013 CES show. As usual CES 2014 will take place in Las Vegas.
source:
SEMC