Some developers now able to respond to users comments on Google Play Store
21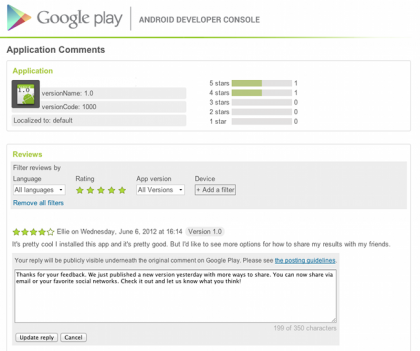 Some developers can now respond to users' comments on Google Play Store
Imagine that you're a developer with an app listed on the Google Play Store. Now imagine that your page has a number of negative comments that you would like the opportunity to respond to. But until now, your hands were tied by Google and
there was nothing you could do to defend yourself
. Google is apparently changing this and those who have earned a
Top Developer
badge are getting to test out the new system.
Users of an app who aren't happy with it or have questions about it have usually resorted to the comments section to have their say. This is all well and good, but it left no opportunity for the developer to publicly respond when a problem that a user was having could have been the user's own fault. We wouldn't be surprised to see higher average scores come out of this new opportunity for the developers to respond to comments from users. It won't make a bad app turn good, but it might just allow a developer
help make an app successful
by explaining certain things to users.
source:
AndroidSpin
via
Phandroid