Some Note 7 users will continue fighting Samsung in court
13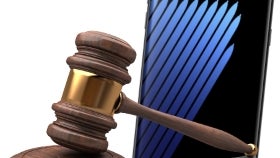 Samsung is doing its best to make people forget the
Galaxy Note 7
fiasco. The spontaneous explosions of the infamous device were already confirmed to be due to battery faults, both by
Samsung's investigation
and by
independent Korean regulators
. However, the endless streak of apologies by the South Korean behemoth are not enough for some users.
A group of five Note 7 users in South Korea said today that they will continue to seek legal action against Samsung, because the company allegedly accused them of making false claims about their devices. According to the plaintiffs, Samsung customer service representatives called them
"frauds"
, and accused them of making false claims in order to get monetary compensation.
"The situation is favorable for the plaintiffs as it turns out that the Note 7 fires and explosions were caused by faulty batteries,"
said an official from harvest Law Office, a Seoul-based law firm that represents the group.
"There is no plan for a settlement at the moment."
"The consumers decided to take legal action as Samsung had tried to pass the buck to consumers for the fire and explosion cases of the recalled devices, refusing to offer a sincere personal apology," the official added.
The five users initially filed separate complaints against Samsung at the Seoul Central District Court, claiming that the company harmed their reputation by calling them
"frauds"
. The first trial should be held in the first half of this year. Additionally, Samsung is facing class action lawsuits by different groups of users both from South Korea and abroad, making the situation tricky, at best.
The South Korean manufacturer has already paid billions of dollars on the refund and exchange programs, but it might be facing even more financial losses due to the lawsuits. And while we wait for various courts to make their decisions, we can't help but to think that the Galaxy Note 7 turned out to be one expensive flop for everyone involved.
source:
TheInvestor
via
SamMobile