Some Google Nexus 7 (2013) units are having touchscreen issues
76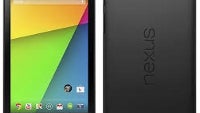 Last week, we told you about
issues that some Google Nexus 7 (2013) users were having with the GPS system
on the tablet. With this problem, the GPS signal would
stop working
as fast as 2 minutes after it was turned on. Owners of the problem slates were told that Google was hard at work trying to get a fix out, but apparently some
Google Nexus 7 (2013)
owners received a replacement unit. That, you might think, would be the end of the story. But as it turned out, it was just the beginning.
According to the tipster that originally brought the story to our attention, he was able to procure a replacement tablet. But it turns out that this tablet, like a host of others, is having problems with the
touchscreen
. Complaints include double taps, ghost taps and erratic behavior from the glass. And one Nexus 7 (2013) owner had the same problem with the 16GB model, which he returned to the store and replaced with the 32GB variant. The new tablet is giving him the same problems.
A response in Google's product forum from a Googler named Paul suggested that those with the touchscreen problem start their tablet in
safe mode
to see if any apps are causing the problem. Starting safe mode temporarily disables third party apps, so you can test to see if that indeed is causing the problem. To go to safe mode, make sure that the screen on your Nexus 7 (2013) is on, then press & hold the Power button. Touch & hold the Power off option in the dialog box and then touch OK in the following dialog to start safe mode. Use the touchscreen to see if the same problems are occurring. If they are, you need to remove your third party apps one-by-one until you find the culprit. If you are still having problems in safe mode, you need to contact Google.
Thanks Anonymous Tipster!
source:
GoogleProductForums