Some BlackBerry Bold units just won't wake up in the morning, RIM confirms
6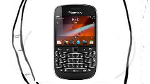 We all know that sometimes people "check out" while in their sleep. It isn't a pleasant thought and we hope that by bringing this matter up, we don't rob you of a few hours of sleep tonight. But the topic came up when RIM started getting complaints from owners of the
BlackBerry Bold 9900
and it's CDMA cousin, the
BlackBerry Bold 9930
. Some of these models are being put off to bed with a recharger plugged in and the phone expected to turn on the next morning with a full battery, rip roaring to go another day full of connecting phone calls and downloading data.
The problem is that when the rooster crows and the Bold owner turns on his phone, there is no boot-up. The phone just lies there like a brick. RIM's official comment on the situation is less colorful, but right to the point. "
A limited number of customers have reported an issue where their device does not power on
," says the Canadian based manufacturer. RIM says that it is
working on a software update
that will revive the dearly departed handsets. No date was given by RIM as to when we can expect this technological equivalent of CPR. As for the number of units that have died, RIM did not say, but more and more owners are writing about their exasperation on the BlackBerry support forum.
This has not been a great time for RIM. Recently, some BlackBerry users in Europe were complaining about
long delays in receiving messages
, not a good thing for a handset that is used for businesses relying on email and other forms of electronic communication. Prior to that, 'Berry users around the globe suffered some network outages
which resulted in RIM offering free apps as compensation
. And of course, there is
speculation about a delay
for the
new BBX powered BlackBerry smartphones
. Add to all of this news about phones that die in their sleep and we would say yeah, RIM has had better months.
source:
BGR
Recommended Stories