So you think Apple is done innovating? Well, it just reinvented the queuing system
99+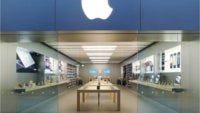 Queuing up in front of an Apple store, days before the latest iGadget is released, just so you could be one of the first to get it, has turned into a sort of a weird tradition nowadays. Some have even figured out a way to make some profit out of it – a week ago,
we talked about the first people to get in line
for the
iPhone 6
, whose sole idea is to sell their spots to iEnthusiasts once the handset's release date actually approaches.
In order to get their brand new iPhone, customers will usually line up and receive a paper card that has the model and specs of the device they want written out on it. It is a sort of a "ticket" that is supposed to help Apple staff keep track of stocks and guarantee that its owner will get their desired phone. Once in possession of a "ticket", one is free to leave the queue and go about their business. Of course, that never happens. Mostly because paper cards are not always perceived as extremely reliable, and because people would rather wait and get in the store as soon as possible, than go away and come back at a later time, only to find that there is still a line that they must queue at.
Well, Apple may be (at long last) coming up with a digital system to do away with the long lines and give employees a breath of air. Dubbed Reservation Pass, the system will register each customer's desired phone, check if it's in stock, sync the new information, and give the future iPhone owner a number. Reportedly, the customer can go about their day as usual and when it's time for them to receive their new handheld, they'll receive an SMS message or Email, letting them know to head for the store. Of course, we imagine that this would be handled in batches – we don't expect that Apple will call for number 357 and wait for them for half an hour to get to the store, before proceeding with sales.
Are you getting an iPhone on launch day? Let us know how the system handles the workload – hopefully, it's gonna be better than the infamous stream.
source:
9to5Mac
via
Redmond Pie