The first in line for the iPhone 6 have been paid to be there
64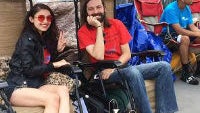 This happens every year - some crazy people will line up to wait for the new iPhone to be released, and usually they will line up well before the device is even announced. If you remember, there was actually a
Japanese performance artist
who lined up for the iPhone 6 back in February, but he didn't quite make it until the launch. The new set of "first in line" have shown up in NYC, but they aren't really there for the iPhone, they are there for the money.
Brian Ceballo and Joseph Cruz have made some good money doing this, estimating about $7000 over the past 5 years, including $1250 this year alone in order to give up the front of the line to Jason and Moon Ray. And, neither pair actually wants the new iPhone 6 for themselves. Ceballo and Cruz represent electronic reseller BuyBackWorld, and the Rays are promoting an app from VideoMedicine, which is basically Skype between patients and doctors. Beyond those four, there is also the stalwart, Robert Samuel, founder and owner of professional line-waiting service S.O.L.D. or Same Ole Line Dudes, who charges customers on an hourly rate to get an iPhone.
Whatever the reasoning for their being in line, they have a pretty solid wait. The new iPhone won't even be announced for another 6 days, and no one is quite sure when the phone will be made available for purchase. The rumors are putting the release on September 19th, and everyone waiting has been there since this past Sunday, which would challenge the record for waiting of 18 days.