So, which flagship did you like better? Galaxy S9 vs Xperia XZ2
75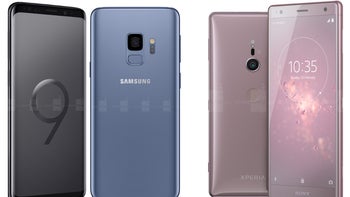 MWC has been a bit... less intense this year and we only saw two major flagship launches from the big players out there. We got the new
Samsung Galaxy S9
and
S9+
, followed by the
Sony Xperia XZ2
and
XZ2 Compact
. And both entries are quite good!
The Samsung Galaxy S9 refines on the S8 formula with very slight design changes, stereo speakers, the introduction of Super slow motion on Samsung's side, AR Emoji, Portrait mode for the S9+, and the cool new variable camera.
The Sony Xperia XZ2 got a redesign with a super-wide 18:9 screen ratio, a fingerprint scanner for the US market, its own 3D Creator Avatars (custom emoji), the weird dynamic vibration, Super slow motion upgraded to 1080p, and 4K HDR video recording.
It's also worth noting that Samsung kept the 3.5 mm headphone jack, while the usually traditionalist Sony did not. Otherwise, both devices sport the best hardware available, but differ greatly in software — Samsung's UI has everything and the kitchen sink thrown in, while Sony prefers to go light on its Android reskinning.
So, which one of these did you like better?