SmokedbyWindowsPhone takes over the city of Toronto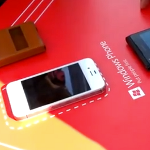 One of the
most interesting promotions in the mobile phone industry
, #SmokedbyWindowsPhone, went on the road to the city most often used by the
motion
picture industry to portray the Big Apple. We are talking about Toronto, of course. The
current prize for beating Windows Phone is $100
and most walked away without the prize and either a new found respect for Microsoft's mobile OS, or else a feeling that someone cheated.
Check out the video below of a young man named Corey putting up his
Apple iPhone 4S
against a
Nokia Lumia 900
. The task was to find a list of local GTA eateries and the Nokia Lumia 900 handled it faster by coming up with a listing of a Tim Hortons restaurant before Corey even had opened his map application. Microsoft originally gave out new Windows Phone handsets to the losers until it was discovered that some were losing on purpose in order to snag a free phone.
According to
Mobile Syrup
, the crowd consisted mostly of BlackBerry users (it WAS Canada, after all), Apple iPhone owners and those clutching their Android handsets. The site noted that very few in the crowd had heard of Windows Phone and an even fewer number were carrying one around. Can a promotion like this one garner enough word of mouth for Windows Phone to
help it become a stronger competitor?
One interesting note. The video of the contest that you can view below was
taken on an Android powered HTC One X
.
source:
MobileSyrup