Smoked by Windows Phone challenge: the results
99+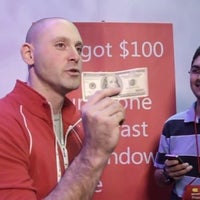 If you have been following our
CES 2012 coverage
closely, you are most definitely familiar with the "Smoked by Windows Phone" challenge that Microsoft's very own Ben "The PC Guy" Rudolf is hosting. In a nutshell, attendees who have a non-Windows Phone device are given the opportunity to check whether Ben's
HTC Titan
, powered by Windows Phone, is faster than their device at accomplishing common tasks. You know, like taking a picture and posting it on your Facebook page, checking the weather conditions at a given location, or finding a good restaurant nearby. And if their smartphone manages to beat Windows Phone, a $100 award will be given to them.
Well, it seems like only a tiny fraction of those who dared challenging Ben and his Windows Phone handset became $100 richer. To be more precise, out of the nearly 30 challengers, Windows Phone lost only on three occasions. Could it be because the challenge itself was tailored in a way so that Windows Phone would have an advantage over any device? It is possible, yet Microsoft successfully managed to grab the public's attention and show off the beauty of its platform. And who knows, a
full blown marketing campaign inspired by the challenge
could follow too.
We now invite you to take a look at some of the challengers and how they fared against Windows Phone. And we have to give Ben the thumbs up for being a gentleman and posting a video of one of his losses too.