Smart Replies can now be sent in Spanish from your Android or iOS device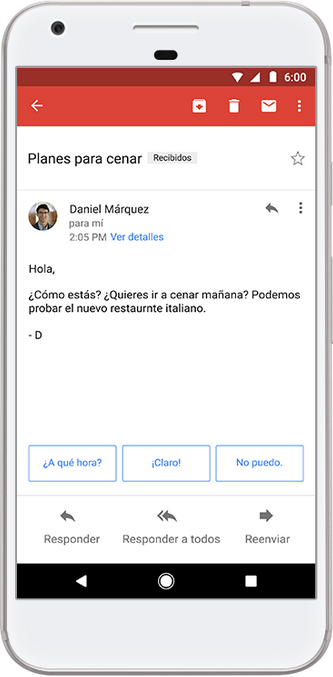 Smart Reply in Spanish is now available for Android and iOS
Back in May,
we told you about Smart Reply
. This is the feature available on Gmail, Inbox, and Allo that has three pre-packaged responses to an emailed question all ready to be sent as a response. For example, you might receive a Gmail that says, "Hey bro, got two seats behind the Yankee dugout for next Sunday. Want one of the tickets so we can see Aaron Judge? On the bottom of the letter, you'll find three boxes that have ready to go responses based on how you answered similar questions in the past.
A response written in one box might say, "
Thank you. See you at the game
." Another box might say, "
Sorry. Promised to take Wife to see Man of LaMancha. Maybe next time
." And the third box might read, "
Who is Aaron Judge?
" Of course, if none of those answers provide an accurate response, you can always write a completely different reply.
Today, Gmail disseminated a tweet revealing that Smart Reply is now available in Spanish from the Android and iOS versions ofGmail, Inbox and Allo. According to Google, even though these responses sometimes sound as fake as canned laughter, 12% of Inbox users turn to a Smart Reply for a quick answer.
We do suggest that if you use Smart Reply, check to make sure that the response you select not only makes sense, but also includes the answer that you want to respond with.
source:
@gmail