Skype for BlackBerry 10 launched for BlackBerry Q10 owners, Z10 compatibility coming soon
8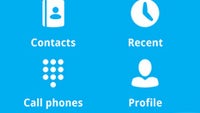 The selection of popular apps launching on BlackBerry 10 is steadily growing, with Skype being the latest addition, albeit
in the form of an Android port
. The BlackBerry 10 Skype client is now available for download from BlackBerry World – free of charge, with all the cool features in its arsenal, including free Skype-to-Skype video calls and instant messaging, as well as calling to regular phones, assuming you have Skype credit purchased on your account.
However, only owners of the
BlackBerry Q10
are currently allowed to download Skype on their devices. And there's probably not a whole lot of them now, given the fact that the Q10 is only available in select markets. Skype will be compatible with the
BlackBerry Z10
only after the smartphone gets updated to
version 10.1 of BlackBerry OS
. That's expected to happen in the coming weeks.
Reviews for the BlackBerry 10 Skype client are mixed, but the core functionality of the app is there and its features work as intended. Note that there might be glitches here and there, but that's expected since this release
"is still in preview state"
.
UPDATE:
To celebrate the launch, Skype is giving a 3-month Skype Unlimited World subscription to its BlackBerry 10 users. Follow the link below to learn more.