BlackBerry OS 10.1 available to developers, here are the changes it brings
22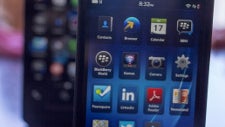 BlackBerry OS 10.1 is the first big update to the recently released overhaul to the BlackBerry platform and it is already available to developers. Those who have a BlackBerry Z10, a Dev Alpha B or Dev Alpha C devices can now try out the new version of the operating system and see how their apps work on it.
Some of those who are using it have already starting making a list of all the new options BlackBerry OS 10.1 brings to the table, and while we've heard about some of them earlier, here is a richer feature list of everything new that's coming:
HDR option for photos
PIN to PIN messaging in BlackBerry Hub
APN editing is enabled
'Highlights' for text are now green, instead of blue
'Text Picker' easily moves left and right between letters
Sharing menu is now black like on the BlackBerry Q10
New help demos and walkthroughs added
You can now 'Select All' for broadcast messages
You can now turn off alerts for specific applications
Easier checks for updates in BlackBerry World
Power button can unlock a phone directly
Coupon redemption feature in BlackBerry World
Paste phone numbers into dialpad
Installed apps can be opened from with BlackBerry World
We for once are happy to see the HDR option for photos, and everything rest goes for a nice polish to the system but nothing major, what is your favorite new feature in this update?
source:
CrackBerry