Simple method has you using BBM for iOS and BBM for Android right now
28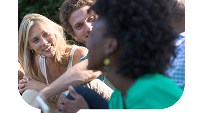 Psst. Hey, you with the smartphone. How would you like to start using BBM on your iOS or Android phone without having to wait your turn on BlackBerry's line? It is possible using a very simple technique. Before we explain how it works, let's recap for those who might have missed all of the action on Monday.
BlackBerry started offering BBM for Android and BBM for iOS
through the Google Play Store, iTunes, Samsung's App Store and BBM.com. If you pre-registered with your email address, you have immediate access to the app. If not, you need to provide BlackBerry with your email address and they will send you a note when it is your turn at the "front of the line" and you can use BBM. By using this method, BlackBerry keeps its servers from crashing since everyone won't be trying out the app all at once.
We are now going to give you a technique that will allow you to use the messaging app right away. First, you need to install BBM on your phone. That should not be a problem. If you own an Apple iPhone or Apple iPad, head to the App Store. If you own an Android device, go to the Google Play Store. Once the app is open, enter your email address as requested, click on
Next
and then force close the app. On iOS, you can force close the BBM app by performing a double tap on the home button and then swiping the app away. You can force close the BBM app on Android by going to the multitasking menu and swiping away the app. Or, go to Settings> Apps> BBM> Force Close.
Once you've closed the app, reopen it and you will have a unique PIN number. These are the numbers used instead of phone numbers or email addresses so that other people can get in touch with you. Using PIN numbers keeps your phone number and email address safe and secure. Have fun while it lasts because now that this is in the open, BlackBerry could close this glitch. By that time, however, you should have made it to the front of the line anyway.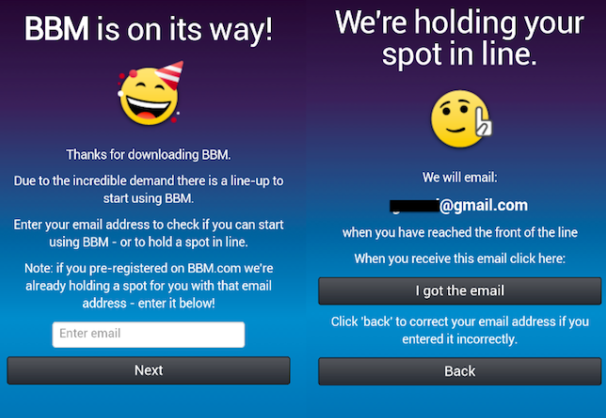 Simple method will have you using BBM for iOS or BBM for Android right away
source:
CNET