Shipments of smartphones priced under $200 expected to soar between now and 2018
13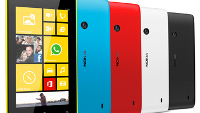 With low-priced handsets like the
Nokia Lumia 520
and its T-Mobile branded twin (the Nokia Lumia 521) selling out in the U.S. and attracting huge demand globally, even Apple has seen the light and is expected to introduce the low-cost
Apple iPhone 5C
possibly as soon as September. But there is a big difference between a phone like the Lumia 520 and the rumored iPhone 5C. The former
sells lock, stock and barrel for less than $150
while analysts expect the low-cost Apple iPhone to carry a price tag in the range of
$300 to $400
.
According to ABI Research, it is going to be those smartphones priced at less than $200 that will see an incredible growth rate between now and 2018. For this year, ABI sees 238 million sub-$200 smartphones shipping. By 2018, that number is expected
to rise to 758 million units
. Led by MediaTek's lower priced silicon, manufacturers in China can quench the demand for cheap smartphones by offering dual-core and even
quad-core Android models
at amazingly low prices, something that would have seemed unheard of just 12 months ago. In addition, these upstart manufacturers are willing to accept lower profit margins in return for a larger share of the market.
According to ABI Research, these sub-$200 smartphones will soon account for 44% of all smartphones shipped. Consumers in developed markets are also coming around to the conclusion that there is great value in a low-priced model like the Nokia Lumia 520 that delivers many of the same features found on Nokia's higher priced models.
source:
ABIResearch
via
IntoMobile