Sharp demoes how optical image stabilization in its 12MP smartphone camera sensor makes video... sharp
7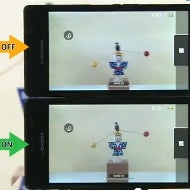 Optical Image Stabilization (OIS) is the gateway to sharp-looking photos, as otherwise the slightest movement of your hand can blur the photo, especially with today's four-ounce smartphones with their tiny camera sensors.
Sharp recently announced that it has managed to cram OIS into a 12MP module
small enough to fit in a stylish handset, and is expecting to ship it in volume in January. The kit is just 0.22" thick, which makes it a prime candidate for today's slim smartphones.
Now the company has crammed the sensor into the Sharp AQUOS SH-01D, so we have some more details how exactly its patented tight-packaging system works to make your photos sharp, and users demonstrate it in the video below in more or less controlled settings.
The folks at Engadget also got their paws on the new Sharp AQUOS SH-01D, which employs the said 12MP camera with OIS, so the second and third videos are with real-life performance, and demonstrate well what the sensor is capable of. Now bring us optical zoom too, as for the
rumored second edition of the Nokia N8
, and we swear to leave point-and-shoots at home from then on.
source:
MasaOnline
(YouTube) &
Engadget