Several interesting applications for Android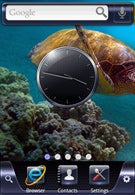 iHome is yet another personalized interface for Android.

It does not change the general feeling of working with the OS as much as the popular SlideScreen, but offers pleasing improvements. Actually, iHome positions the main menu (with its application shortcuts) onto the home screen, but you are allowed to place widgets there as well. Holding a finger pressed against an icon brings up a circular menu that provides access to various functions. It is quite convenient to have the phone browser, contacts and settings easily accessible at all times, plus there is personalized application search that comes in handy in case you´ve installed many programs. All told, iHome is an enjoyable personalization pack, although it tends to slow down the operational speed of the device significantly, not to mentioned we encountered certain problems with the software stability – the program just freezes and often. We would recommend that you give the trial a shot, before actually buying the full version that allows for download of additional themes and effects.
Talk To Me will certainly appeal to people, who have tried chatting up the cool Spanish girl living next door (and does not know even a word in English).

The program allow for voice entry of phrases, albeit in English only. Still, they can be translated into Spanish, French and Italian. Said limitation, however, is inactive if you opt for typing away via your device keyboard, so in this case you will be able to take your pick from a dozen of languages. Finally, the translation can be send via an email or text message. We have already tested the voice entry feature of Talk To and despite the fact we have not been particularly successful this far, we do find the concept fascinating. Now all we need is a talkative Spanish girl!
Why not have some fun and relax after a busy day at work... shooting ducks in Shoot the Duck?

The game is rather simple really - all you need to do is aim at flying birds and add to your score in order to climb up the global rank list. In the meantime, you will relish pleasing background pictures. Shoot the Duck is pretty relaxing, although nobody would call it complex for sure, meaning chances are you will get bored pretty fast.
Three Kingdoms Land Masters offers an interesting way of solving problems coming with the territory.

If you want to conquer certain area you need to... hm, play a card game that reminds of poker, although its rules are somewhat unclear. In other words, beginning to actually win the draws takes some time, since you need to learn how to play. We also like the graphics with its Chinese motives and gameplay that is pretty hard to master. The free demo version of the title is available at Android Market.