SlideScreen for Android test
3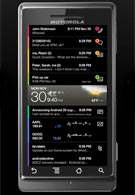 Interface that can be easily personalized is one of the greatest advantages of smartphones. Achieving a proper balance between its visual appeal and functionality, however, is quite a difficult thing and there are just a few interface packs that have managed to impress us (like the HTC Sense). That is why we appreciate the bravery and inventiveness of Larva Labs, a software company that has taken up the task of developing a brand new Android interface that significantly changes the way people use and interact with the operating system.
Meet
SlideScreen
– an application that replaces the native OS home screen and alters the main menu. At first glance, the interface reminds of Windows Mobile 6.5 or, in other words, just forget about multiple home screen pages and widgets. There is only one screen and you can change the position of... exactly one info tab (that shows details about the current day, time and weather conditions). Depending on the particular location of the latter, the rest of the interface elements present varying information. Functions relating to personal data and events like call register, messages, email and calendar are located at the top, while things like news via Google Reader, stock exchange indices, Twitter etc. appear at the bottom of the screen. You are allowed to remove the tabs you don´t need and you get rid of them in quite an easy and handy way, just keep your finger pressed against the screen and drag the box to your right. Finally, up to eight shortcuts to overused applications of your own choosing can be placed directly into the main menu.
Of course, you will need some time to get used to the interface, but it has several advantages over the standard one. It provides you with a great amount of various information that is available in one place, something that is next to impossible otherwise, given the huge size of almost all widgets dedicated to Twitter and stock exchange indices. Moreover, SlideScreen runs really smoothly even on our ageing
T-Mobile G1
.
The personalization pack will certainly fail to appeal to everyone, plus there are several things relating to its functionality that need looking at. For an instance, most people would probably like to be able to rearrange all info tabs to their own taste, use other popular social networks other than just Twitter and set up email accounts registered with various email providers (only GMail is currently supported). Still, we have to admit that SlideScreen is an application with great potential and it seems the developers at Larva Labs are working on a new version that will address at least some of the above-mentioned wishes of the general public. In case you need to be able to get a lot of information by taking a look at the home screen of your Android handset and as far as you don´t expect stunning graphics and visual effects, we do recommend that you give SliderScreen a go, the applilcation is free and can be downloaded from the Android Market.