Seven Apple iPhone 8 and iPhone 8 Plus units have been split open due to a swollen battery?
71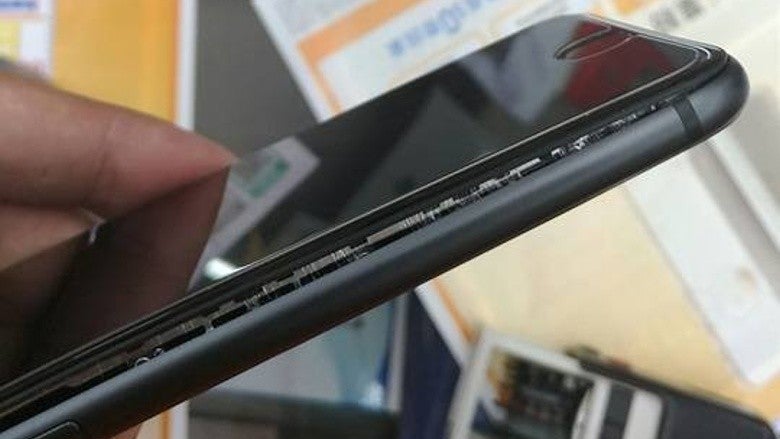 Another iPhone 8 or iPhone 8 Plus is split apart after the battery started to swell
The latest reports now say that there have been at least seven
iPhone 8
and
iPhone 8 Plus
units split open by a swollen battery. The pressure of the battery swelling in a limited enclosure is forcing the screen to separate from the body of the phone. Thus far, there has been two reports of swollen batteries reported in Taiwan and Japan. Another one was seen in the region of Formosa, while other complaints were logged in Canada, China, Greece and Hong Kong.
One user was charging his phone with the original equipment when the battery started to swell. At least a couple of units came out of the box with the phone already split. And some of the iPhone 8 and iPhone 8 Plus models with a bloated battery suffered a short fall with no apparent damage until the battery started to increase in size. Those in the know say that the cells are produced by Samsung's SDI unit, and by LG Chem.
The worry for Apple is that reports start increasing and the whole problem becomes similar to what happened last year. when Samsung was forced to pull the
Samsung Galaxy Note 7
off of the shelves. In that situation, several units started exploding thanks to an issue with the batteries used with the model. So far, no iPhone 8 or iPhone 8 has exploded. With the Galaxy Note 7, at first there were only a couple of reports claiming that the phablet exploded or started a fire. Suddenly, there were complaints made seemingly every other day. Eventually, Samsung had no choice but to pull the high-end phablet.
Right now, there aren't enough phones affected to force Apple to issue a recall. But we've already gone quickly from this being a lone issue, to two models having the problem, to the current tally of seven. Apple says it is investigating and the whole affair is beginning to bring on a sense of deja vu.
source:
PocketNow