Senator asks FTC to investigate Apple and Android about apps that misappropriate data
7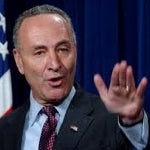 Democratic Senator Charles Schumer of New York, is asking the FTC to check out a story in the New York Times that says both the iOS and Android platform can get access to private data without the consent of the user. The story in the Times said that
certain iOS
and
Android apps
can allow rogue developers access to a user's pictures, videos, and location data
without the user aware of the theft of information
. Allegedly, these apps could upload information from a phone's address book including names, addresses and phone numbers. In a letter to the FTC, the Senator wrote, "
These uses go well beyond what a reasonable user understands himself to be consenting to when he allows an app to access data on the phone for purposes of the app's functionality."


Senator Schumer added that to his understanding, using apps to collect information without permission
would violate the Terms of Service for both Apple and Android platforms
and took a little hit at both Apple and Google by saying that he is not sure how these TOS are being monitored and enforced. The politician said that smartphone makers have an obligation to protect its customers private data. "
Smartphone makers should be required to put in place safety measures to ensure third party applications are not able to violate a user's personal privacy by stealing photographs or data that the user did not consciously decide to make public
," the Senator said, "
When someone takes a private photo, on a private cell phone, it should remain just that: private
."
source:
Reuters