Selfies are replacing passwords as a way to verify identification
9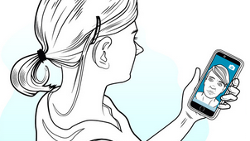 As phone manufacturers continue to improve the front-facing camera on their devices in order to allow users to shoot better looking selfies, the self portrait itself is becoming more useful. Some companies are beginning to use these photographs as a replacement for a password. One such company is MasterCard, which launched an app called Identity Check Mobile. With the app, consumers using their credit card online can verify their identity by looking into the smartphone camera on their phone. The consumer is asked to blink to prevent someone from substituting a still photo.
The image is stored by Master Card on their server until it is encrypted. At that point, the photo is deleted. Next year, MasterCard says that consumer selfies will be kept inside the Identity Check Mobile app as a safety precaution. MasterCard has started this program in Europe, and 92% of the customers participating say that they want to login to mobile banking apps by using biometrics instead of using a password.
Ride-sharing service Uber is now asking its drivers to take a selfie every now and then before accepting a new fare. This is done through an app that is available to Uber drivers only. The picture is run through Microsoft's cloud-based Cognitive Services software tool which uses an algorithm to match the selfie with pictures on file. Even though some of the pictures it has on file are not very good ones, Uber was still able to verify 99% of the selfies sent in by its drivers.
Selfies snapped for identification use are converted to a series of numbers based on certain facial measurements. The width of someone's nose, or the curve of their jaw are measured and then converted to an ID code that is compared to a reference photo left on file. It isn't a system that has been perfected yet, but many companies are happy to use it. For example, U.K. bank HSBC allows banking customers to open an online account using a selfie that is compared to an uploaded driver's license photo.
source:
WSJ
Recommended Stories