Selfie statue appears in Sugar Land, Texas to forever glorify our vain habit
23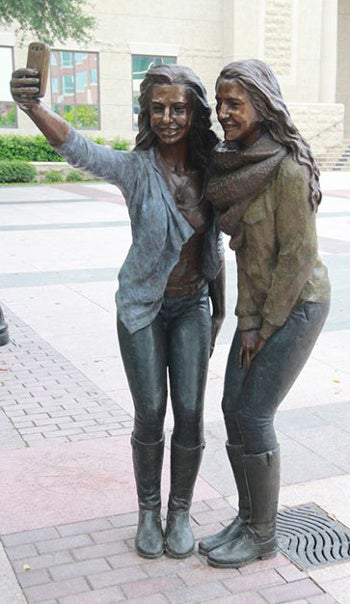 Selfies are... inevitable.
In fact, these days one would probably wonder how taking pictures of yourself wasn't a thing long before the selfie craze began a couple of years ago.
Taking a selfie is one thing, however, while building a statue of two girls taking a selfie is a puzzling act of modern art.
Yet such a statue exists. The selfie memorial was erected in Sugar Land, Texas, right in front of the City Hall, so that people in the future would gaze in awe when they find it out of the ruins of the 21st century civilization.
And there is one thing that's particularly noticeable to phone enthusiasts here: the phone the girls use to take that selfie. Can you recognize it? We're looking forward to your ideas in the comments right below.
THERE'S A SELFIE STATUE IN MY TOWN. pic.twitter.com/hEV0MLM04L

— Gemrick ¯\( ˘͡ ˘̯)/¯ (@Gemrick) May 28, 2016
Y'all I saw the selfie statue in Sugar Land with my own eyes; it's as ridiculous as it sounds pic.twitter.com/2FF4XQKb7K

— Melinda Taylor (@mtayl19) May 27, 2016
What's my hometown like? Well they just erected a statue of 2 girls taking a selfie next to city hall sooooooo... pic.twitter.com/k4J2vQRZun

— Alexis Burrmann (@alexisburrmann) May 30, 2016


via PetaPixel