See who the top 14 phone makers worldwide are
90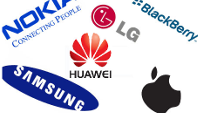 Many a battle have taken place since Apple introduced the original iPhone in 2007, a device that, regardless of where yours or our loyalties lie, has admittedly championed the modern vision of what a smartphone is and could be. But quibbling over which brand is better seems only natural, seeing as the size of the smartphone industry has been keeping handset manufacturers salivating for a good six years now. Said in simple, worldly terms, the stakes are so high, that brands as a rule haven't shied away from recruiting fans to carry the company's torch for them.
At PhoneArena we recognize that our readers differ vastly in both background and personal tastes, much the same way we do – you'll be surprised at the diversity of devices that are being chauffeured around in somebody's pocket at the office. But we also have to recognize cold, hard data, because at the end of the day, market feedback remains the most unbiased and objective way, that we know of, to gauge consumer preferences, although, we have to concede – a fair degree less telling of quality.
Cold, hard data, precisely, is what we have in store for you today. Courtesy of ABI Research, this latest report on the top worldwide handset makers paints a telling picture of where the smartphone world is going, who's leading the charge, who the losers are, and of course – light a candle on a few sneaky contenders who might have a coup in mind.
If the above has you at all interested, then you should head straight for our slideshow below. Note that the information below is based on shipments volume that has entered the retail channel, and not direct sales to customers. Moreover, the data includes both smartphone and feature phones combined, but these will be broken down into two categories.