Security worries surround the KeyMe app for iOS; Android version on the way
6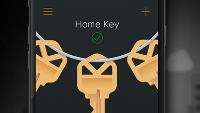 Back in November 2013, we told you about KeyMe
an iOS app that allows you to scan a key using the iPhone camera
. This creates a digital copy of the key. If you are ever locked out, you use the app to have a new key cut and delivered to you within the hour by a local locksmith. That service will cost you $59. If you don't mind waiting for three hours to have the key delivered, your cost is just $20.
KeyMe also has local kiosks that can store digital copies of your key, and cut a new one with a validation of your identity using a fingerprint scanner. You can also have a key shipped to you via snail mail for $5.99. While this all sounds wonderful, especially for those with the habit of locking themselves out of their house, with this new technology comes a dark side that can easily be exploited by those with criminal intentions.
As WPLG in Miami reported, valets parking your car can snap a picture of your key and have a digital copy on their phone, from which they can make their own key to your house. Someone even used the KeyMe app to break into their neighbor's home. To show you how easy it is to do, reporter Christina Vazquez took the house key belonging to her managing editor, presumably without him knowing. She followed the directions and took a photo of the key on a white background using the camera of her iPhone. The key arrived by mail and lo and behold, it opened the front door with ease as you can see in the video below.
KeyMe is a great idea with some useful applications. But it might be too tempting for those who handle keys and are desperate for money. If you're worried, the Associated Locksmiths of America suggests buying a high-security locking system from Medeco. It costs more money, but the keys are hard to copy. And by the way, as if you needed to worry more about this, the KeyMe app is coming soon to Android.
Thanks for the tip, Suzanne!
source:
WPLG
Recommended Stories