Secret of Google Nexus 5 was hidden in Android 4.3 camera app
11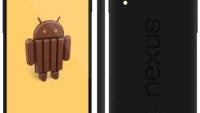 Isn't it funny that someone with an odd theory could be considered nuts until the facts prove that he was actually right the whole time? Someone with the handle
bigtop77
on Reddit had proposed a theory so odd, so different that he was being called crazy. But just like the first guy who said that the Earth was round,
bigtop77
was actually correct and those that had poo-pooed his theory were like that guy from Decca who told Beatles manager Brian Epstein that guitar groups were on the way out back in 1961.
So what was this radical thought that had everyone measuring
bigtop77
for a strait jacket? About a month ago, prior to that
famous picture taken at the KitKat unveiling at Google
that first brought our attention to the
Google Nexus 5
, this gentleman posted on Reddit the idea that the camera switching icon on the Android 4.3 camera app was actually an image of the new Nexus handset. The icon is pressed whenever the user wants to switch the camera in use from the rear-facing snapper to the one on front.
Taking a look at the icon, we can see how the placement of the camera lens, the thin top bezel and the earpiece on the front of the phone all match up with the device that we expect will be introduced as the Google Nexus 5. So next time someone tells you something that on its face seems to be so ridiculous that you want to laugh out loud, stop for a second and think of
bigtop 77
. Ridiculed at first, he turned out to be 100% correct. By the way, the exact name of the thread on Reddit was "
Is Google hinting at the Nexus 5 in the 4.3 camera software?
" And if you want to see for yourself the answer to that question, check out the slideshow below.
source:
Reddit
via
Phandroid