Second-generation Nexus 7 updated to Android 5.1.1 by Verizon, includes Stagefright fix
3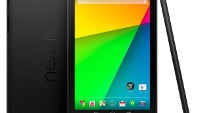 The Second-generation
Nexus 7
tablet has been updated to Android 5.1.1 by Verizon. At the same time, the OTA update includes a patch to protect the slate from the Stagefright exploit. The latter uses a malicious MMS message to take control of certain features on your phone. Originally, it was estimated that 95% of Android devices were vulnerable to the exploit. Recent software updates have reduced this percentage, although there is still a long way to go.
According to Verizon's changelist for the Asus built tablet, the second-generation Nexus 7 will receive an update to the Material Design associated with the Lollipop build that includes fluid animation, real-time shadows and ripples, bold colors and bright contrast. A Battery Saver will allow you to run your tablet with certain features turned off, or with reduced capabilities. You will also be able to set when the Battery Saver gets turned on, based on how much battery life is remaining. And the Always-on screen also saves battery life, according to Big Red.
Other changes include multiple users support and Task Locking. This feature restricts notifications temporarily so that you can focus on a task. Tap and Go allows you transfer content from your second-generation Nexus 7 to another Android device using NFC and a single tap on the screen. And the update allows the tablet to support Verizon's XLTE service.
Make sure that you are on a Wi-Fi network when downloading and installing the update. At the same time, your battery should be at least 50% charged. Since the update is being sent out OTA, it is disseminated in waves which means it might not reach your second-generation Nexus 7 for a few days. Be patient, and when you least expect it, the update will arrive. By the way, if you're keeping score, the new software version is LMY48L.
source:
Verizon
via
AndroidCentral