Second generation Motorola Moto X Soak Test invitations go out to Verizon customers (UPDATE: AT&T, too)
7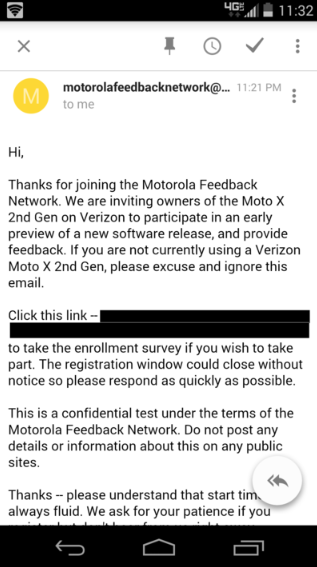 Soak Test invites go out to those with the Verizon branded second generation Motorola Moto X
If you own a Motorola handset, you haven't lived until you have participated in a Soak Test. This is a process that Motorola employs to test a software update by sending it out at first to a small number of handsets. If things go as planned, Motorola then disseminates it to all owners of a particular model. By keeping the Soak Test small, Motorola is able to keep a better handle on things; the Soak Test also limits the manufacturer's exposure in case the update bricks some phones.
To be eligible to participate in a Soak Test, you must register with the Motorola Feedback Network. You also need to promise that you won't leak information about the test to anyone.
Motorola is in the process of sending Soak Test invites to Verizon customers rockin' the second generation
Motorola Moto X
. The build being tested is no doubt Android 5.0. Last week Motorola sent out similar invites for the Motorola Moto X Pure Edition and the second-generation
Motorola Moto G
.
Motorola recently announced that
because of the older style Snapdragon chip employed
in the first-generation
Motorola Moto X
, that model faces a delay before it receives the Lollipop update.
source:
AndroidCentral
UPDATE:
AT&T customers with the second generation Motorola Moto X are also receiving invitations to join a Soak Test, no doubt for Android 5.0.
source:
AndroidCentral