Motorola explains the delay in updating the OG Moto X to Android 5.0
40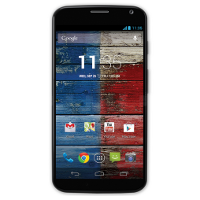 Those with the OG
Motorola Moto X
must feel like they are in a nightmare. Handsets all over the place, including models considered to be lower in the Moto pecking order like the
Motorola Moto G
and
Motorola Moto E,
have received or are in the process of soon receiving the update. And yes, the
second generation Moto X has already been "Lollipopped
."
So what is it about the OG Moto X that has prevented its owners from enjoying the latest and greatest Android build? A tweet sent out by Motorola Support on Monday in response to an inquiry, revealed that it is the chipset that is the culprit. While the second generation Moto X is driven by a quad-core Snapdragon 801 CPU, the OG model has an older dual-core Snapdragon S4 Pro processor under the hood.
The tweet says that the OG Motorola Moto X will get "L" (Android 5.0), but it is taking more effort on Motorola's part. There is no word from Motorola on when the update will be ready, but the important thing is that the manufacturer did say that it will eventually arrive. Obviously this is tough on those who own the device, but sitting around and stewing about it won't get you anything but an ulcer.You can decide to wait, try to catch a sympathetic ear from someone at Motorola or your carrier, or dig deep into your wallet to buy a new phone.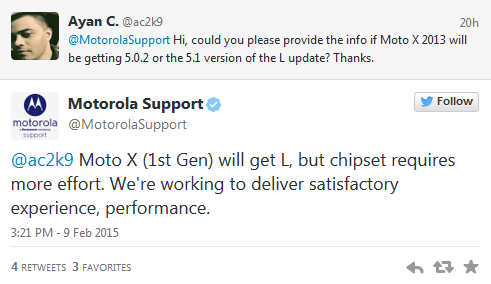 Motorola explains why the OG Moto X is stuck at Android 4.4.4 for now
source:
@MotorolaSupport
via
STJSGadgets