Sculpture of Steve Jobs allegedly contains his trash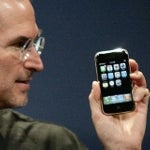 On display in a Los Angeles gallery next month will be a
sculpture of the late Steve Jobs
, holding an Apple iPhone in his hand. That might not sound unusual, for even in death Jobs remains a controversial figure whose influence continues to this day at the company he co-founded. But the interesting (or creepy, depending on your outlook) thing about this work of art is that it is partially made from trash stolen from Jobs himself.
"Coated in an "Apple White finish," the sculpture is cast in the artist's patented plastic porcelain, mixed with a recycled resin made up of Steve Job's residential trash which the artist collected from the tech icon's home several months before his death."-Cory Allen Contemporary Art
If you're, uh, dying to own this piece of art entitled "Think Different," it will be reproduced as a limited edition for sale in "Apple Black" as a way to remember the mass suicides at Foxconn. Obviously, this is not necessarily a tribute to Jobs or to Apple. "
Either waiting in line or in an assembly line, Apple is to die for. Unfortunately, Apple thinks it's all the same
," said XVALA. "Think Different" will debut at AIS Editions on October 13.
source:
PRNewswire
via
SlashGear